LONG LASTING, UV RESISTANT
Premium marine boat polish creates a shiny, long-lasting, low-drag surface that repels dirt and stains. Simply wipe on and wipe off for an ultra-slick UV-protected finish that's easy to keep clean.
Sale price
$22.99
Regular price
Unit price
per
Free Shipping On All Orders
LONG LASTING, UV RESISTANT
View full details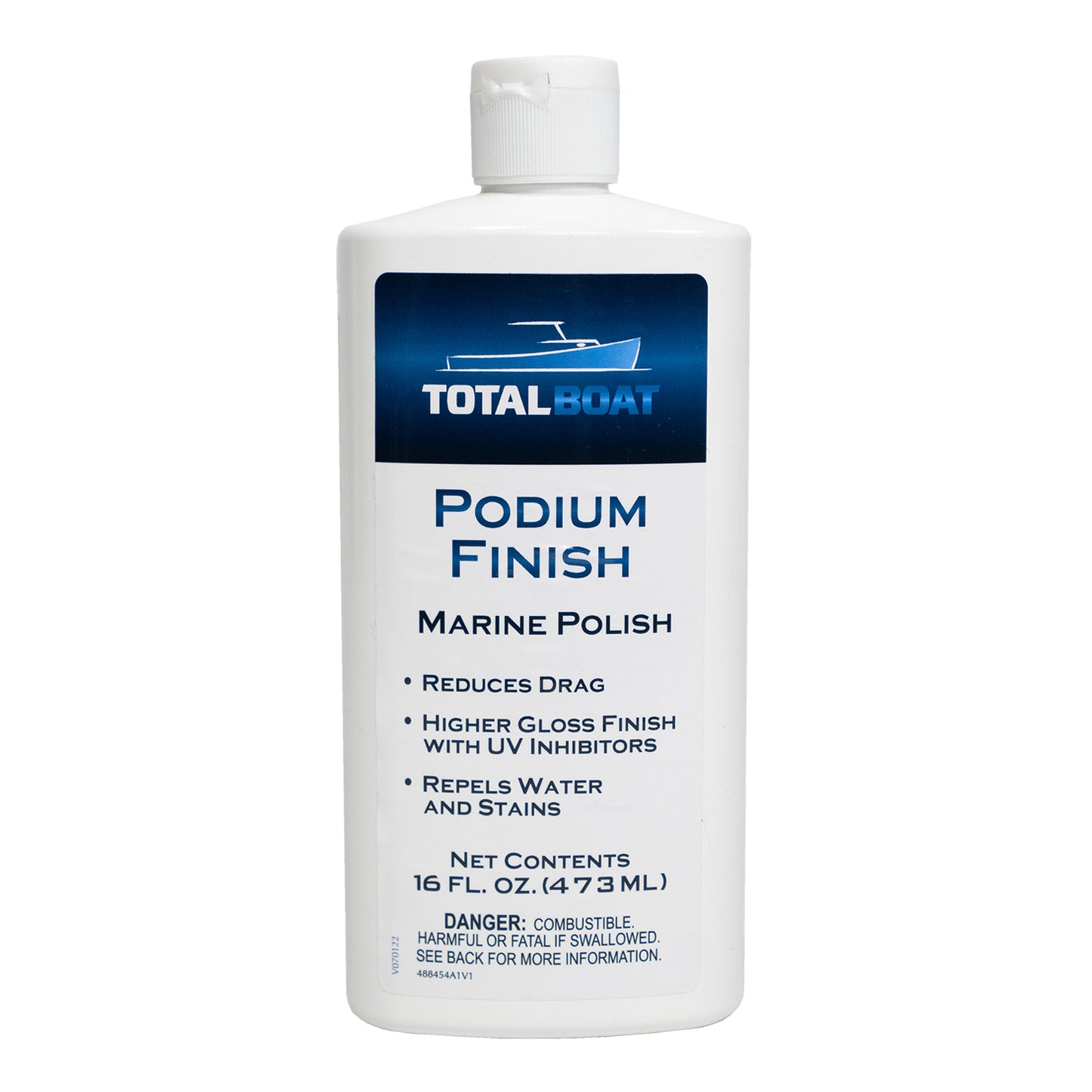 Description
Look like a winner no matter how you finish
Podium Finish Premium Marine Boat Polish is easy to apply and takes only a few minutes to form a haze that's easy to remove and polish to an ultra-high shine. You'll spend less time polishing so you can put more time in on the water.
While we can't guarantee a podium finish if you use it on your hull (It's up to you not to blow a tack), we can guarantee that racing or not, you'll look good getting where you're going, and the reduced drag will get you there faster.
Podium Finish Marine Polish Details
Use on fiberglass, gelcoat, and painted surfaces.
Exceptionally sleek finish repels grime, oil, salt, and stains easily.
Super-slick, smooth finish reduces drag and makes the surface easier to keep clean.
Advanced UV inhibitors help preserve color and shine, and protect against UV damage.
Dries to a haze in minutes so you can finish polishing faster.
Exceptionally easy to remove without hard rubbing and with less effort than conventional polish or wax.
Creates a non-stick surface that may reduce staining and marine fouling growth below the waterline. However, Podium Finish is not intended for use as an antifouling coating.
Advantages: Higher gloss, better stain-repelling ability, longer lasting, and a better value than competing polishes.
Size: 16 fl. oz.


TotalBoat products commonly used with Podium Finish

SPECIFICATIONS
TECHNICAL DATA
APPLICATION DATA
Substrates: Fiberglass, gelcoat, epoxy, metals, paint
Application Method: Terry cloth, microfiber cloth, buffer, wool polishing pad
Application Temperature/RH: 50-90°F, relative humidity 0-90%
Application Note: Safe for use on all colors of paint and gelcoat, but it's recommended that you test any painted surfaces in a small, inconspicuous spot before full application.
Number of Applications: One; for best results reapply every 30-60 days for maximum shine and long-lasting protection.
Dry Time: Allow to dry to a haze, which may take a minute or two.
Removal: Clean, soft cloth
Cleanup: Soap and water
Maintenance Applications: For superior drag reduction, shine, and protection, apply a maintenance coat every 30-60 days. For optimal performance for boats that use Podium Finish below the waterline and are dry sailed or hauled regularly, we recommend reapplying every 2-3 weeks.
Personal Safety: Wear proper personal protection, including hand and eye protection. Use in an area with adequate ventilation.
PHYSICAL DATA
Color: White; dries to a whitish haze that turns clear when polished.

UV Protection: Yes

Storage: Store in a cool, dry area with the cap on tightly. Do not freeze.
WHAT MOST PEOPLE ASK
FREQUENTLY ASKED QUESTIONS
What is the difference between Podium Finish and TotalShine?

TotalShine

is a polish that removes oxidation and restores color, while Podium Finish creates a long-lasting shiny coating that reduces drag and protects against dirt, grime, and stains.

What is the difference between Podium Finish and TotalBoat Wax?

TotalBoat Podium Finish has an active ingredient that creates a robust, non-stick coating that can be used as an alternative to

TotalBoat Wax

. It's also easier to apply and lasts much longer.

Does Podium Finish Marine Boat Polish provide UV protection?

Yes. UV inhibitors help preserve color and shine.

Does it contain silicone?

No, it does not. It contains PTFE as a slickening agent instead.

Can this polish be applied over Wax?

Yes, it can be applied over previously applied wax.

Can it be used instead of Wax?

Yes, Podium Finish Boat Polish is a great alternative to wax. It takes half as long to apply and lasts longer than conventional marine wax.

Will Podium Finish restore faded gelcoat or remove mild oxidation?

No. Podium Finish is used to create a shiny protective film that repels dirt, grime, oil, salt, and stains. If fiberglass is faded, use

TotalBuff

followed by TotalShine to remove oxidation and restore surface color before applying Podium Finish.

How often should I apply it?

We recommend applying a coat every 30-60 days. However, if using below the waterline, it's best to apply the finish every 2-3 weeks for optimal performance.

Yes. Podium Finish can be used on fiberglass, gelcoat, and paint, but we recommend testing any painted surfaces in a small spot before full application.

Does Podium Finish make my boat faster?

A slick, low-drag finish can certainly help make your boat faster.

Does Podium Finish provide antifouling protection?

No, Podium Finish is not designed as an antifouling coating, but it may reduce staining and growth at or below the waterline.

Should you apply this polish by hand or buffer?

Podium Finish should be applied by hand with a clean cloth or lint-free rag using a circular motion.