This simple 3 step system includes TotalBoat Soap, Fiberglass Polish, Paste Wax, an applicator pad, and a microfiber towel. It's an unbeatable value, as it comes with everything you need to maintain your boat's finish.
Sale price
$49.99
Regular price
Unit price
per
Free Shipping On All Orders
View full details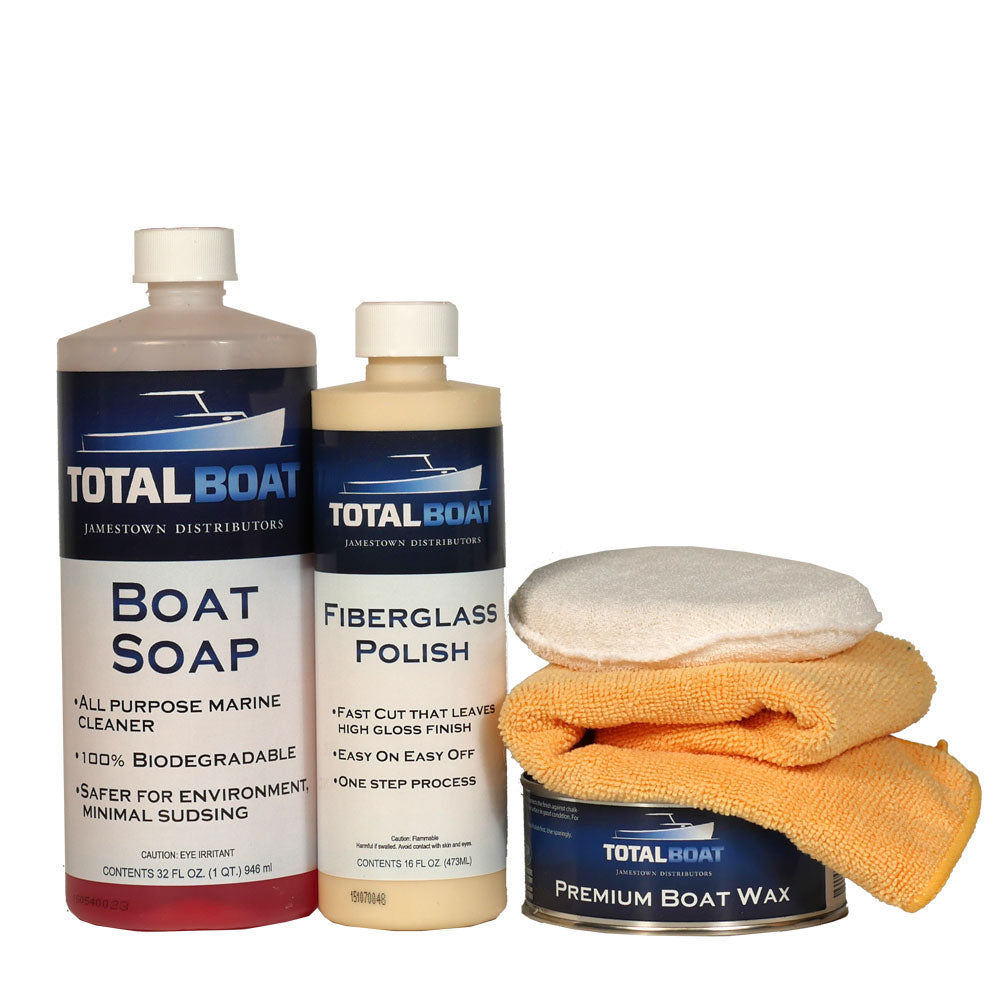 Description
Everything you need to keep your boat looking its best
This inexpensive, all-in-one kit is an ideal maintenance solution whether you are looking to keep that showroom shine on a new boat, maintain a freshly restored classic, or are simply fastidious about your boat's appearance. TotalBoat soap is suitable for everything from dishes to sails. Our Fiberglass Polish deals decisively with minor oxidation, scratches, and stains. Follow up with TotalBoat Paste Wax for the trifecta of clean, polished, and protected.
The Hand Polishing Kit includes:
1 bottle of TotalBoat Boat Soap (32 fl. oz.)
1 bottle of TotalBoat Fiberglass Polish (16 fl. oz.)
1 can of TotalBoat Premium Boat Wax (11 oz.)
1 Round hand applicator pad
1 Large, soft microfiber cleaning towel
TotalBoat Boat Soap
Safe, non-caustic, all-purpose, biodegradable marine cleaner
Works in hot or cold, fresh or salt water.
Minimal sudsing
Perfect for sails, life preservers, inflatables, upholstery, decks, hulls, lavatories, and galley areas.
Safe for the water-repelling coatings on convertible tops and dodgers.
Will not harm delicate natural and synthetic fibers.
TotalBoat Fiberglass Polish
Easy to apply and remove by hand.
Safe, minor abrasive agent restores gelcoat color.
Cleans and shines in one step, with less effort.
Much easier to use than rubbing compounds — and safer for the gelcoat finish.
Economical because a little goes a long way.
TotalBoat Premium Boat Wax
Non-abrasive formula is easy to apply and remove by hand.
Dries quickly to a hard, protective wax finish.
Effectively repels salt and dirt, and protects from oxidation and UV radiation.
ADDITIONAL PRODUCT INFORMATION