The TotalBoat Razzo Starter Kit contains everything you need to create a set of colorful coasters for home use or gifts.
Sale price
$49.99
Regular price
Unit price
per
Free Shipping On All Orders
View full details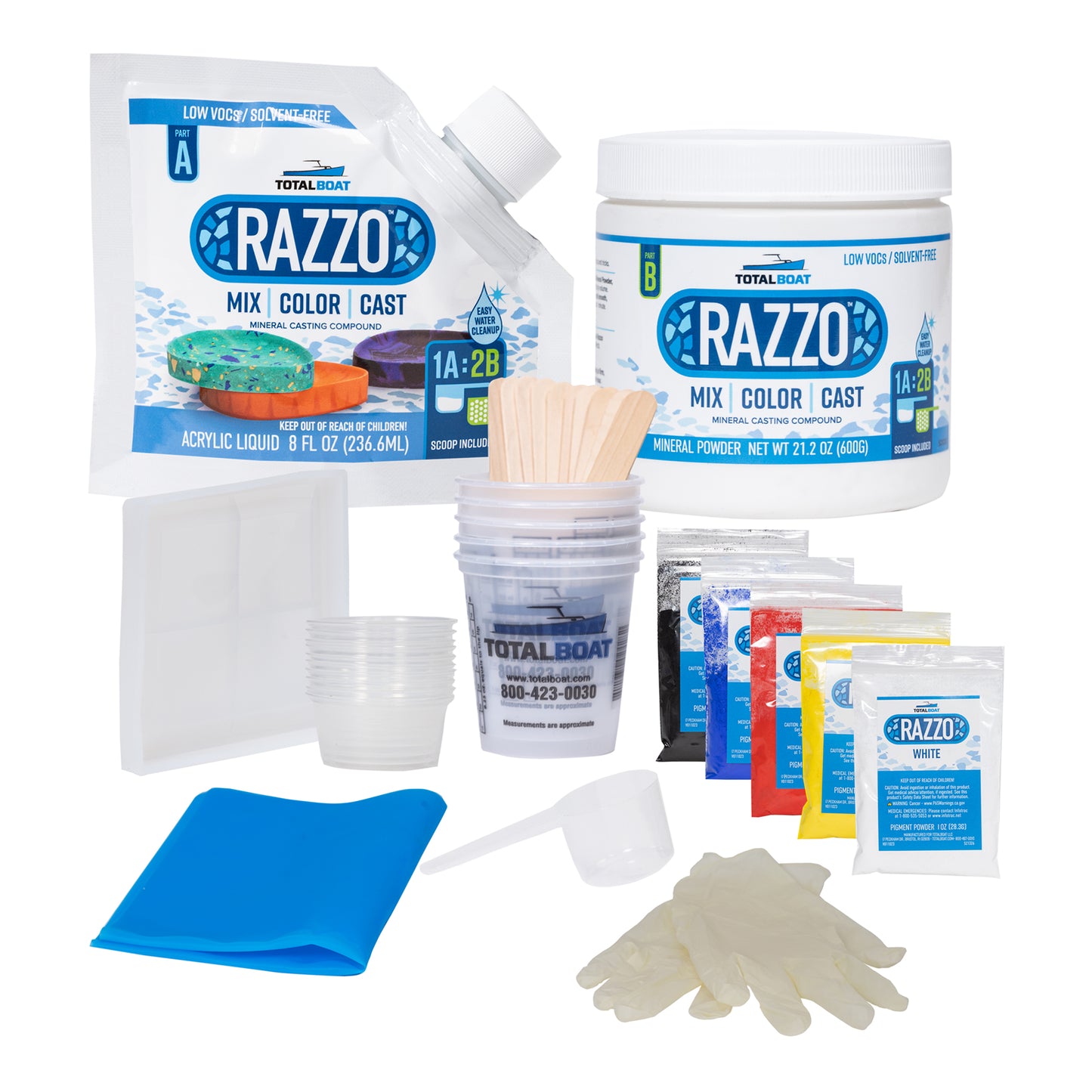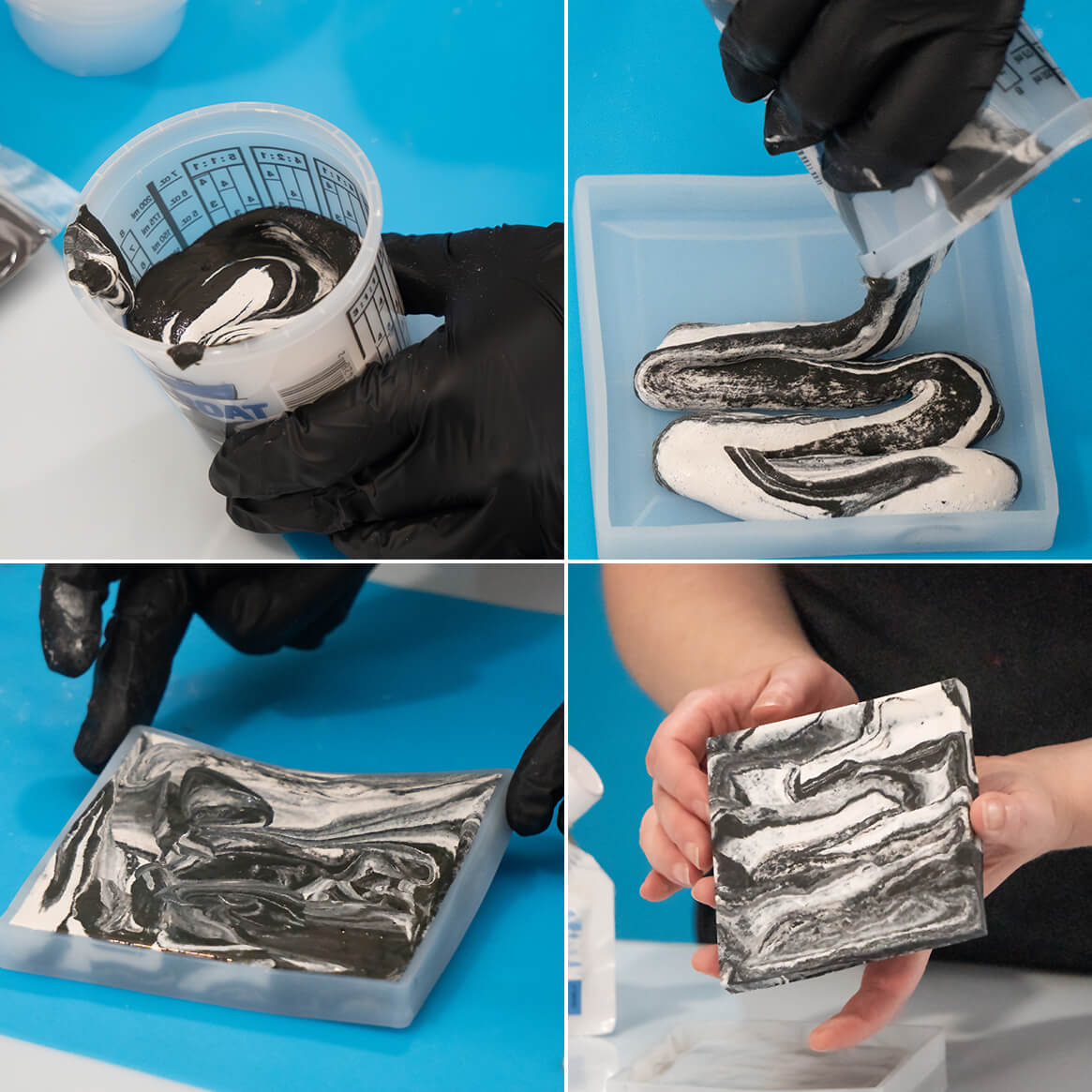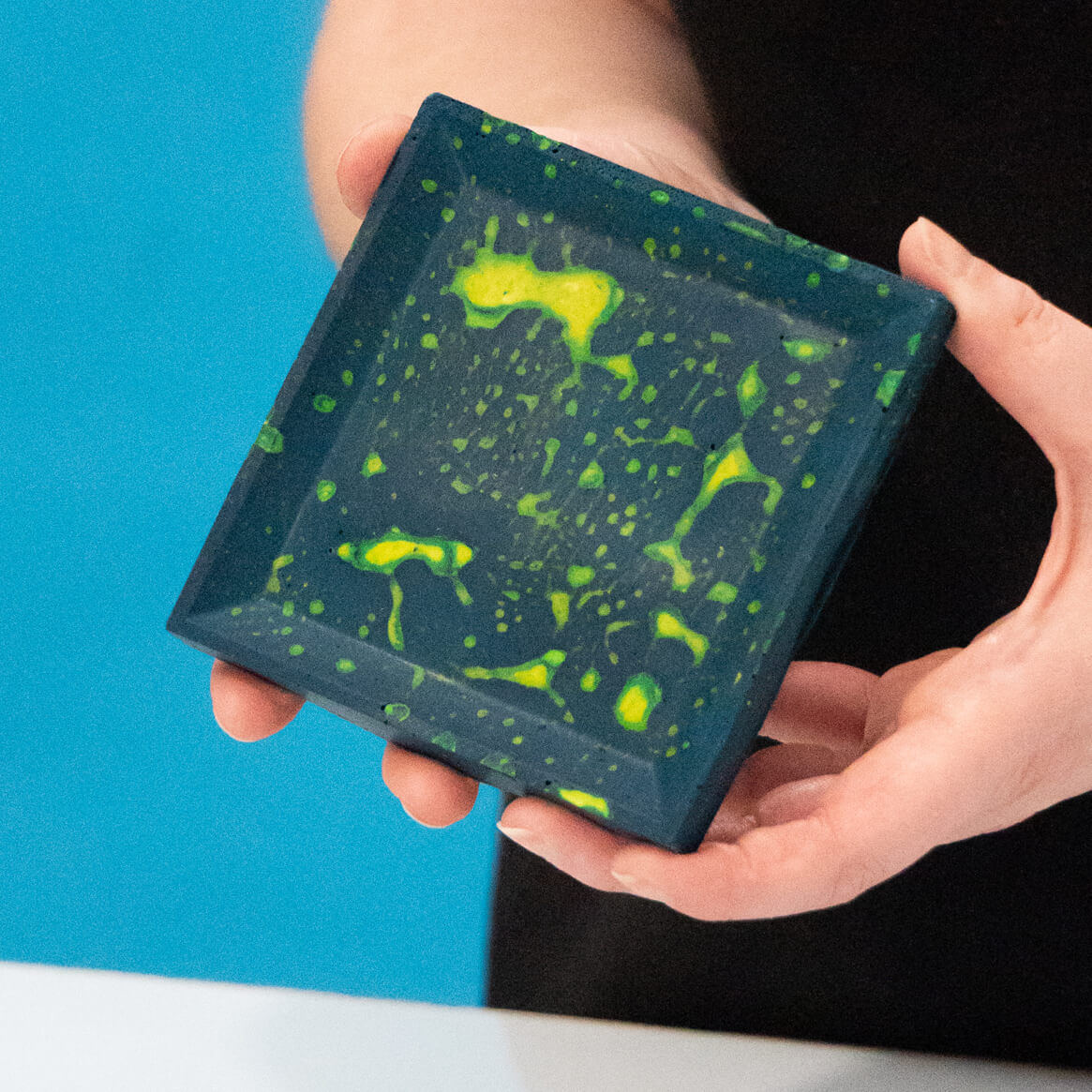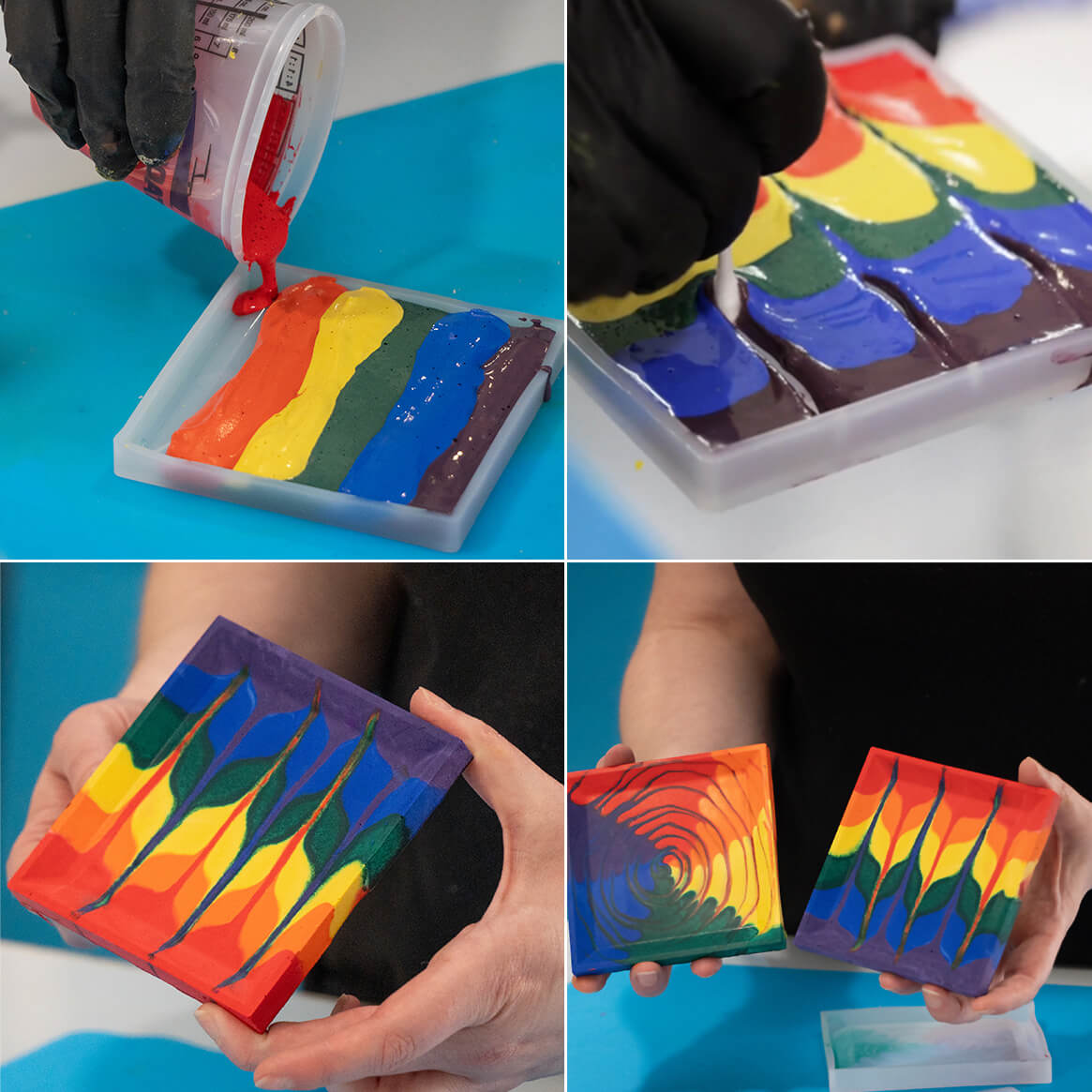 Description
Complete project-ready Razzo Starter Kit contains the Razzo Mineral Casting Compound Acrylic Liquid and Mineral Powder components, Razzo Pigment Powders, silicone molds, measuring and mixing tools to create one-of-a-kind coasters for yourself, family, and friends.
Razzo Starter Kit Contents
8 fl. oz. Razzo Acrylic Liquid (Part A)
21.2 oz. Razzo Mineral Powder (Part B)
Razzo Scoop (holds 2 oz.)
1 oz. Razzo Red Pigment
1 oz. Razzo Yellow Pigment
1 oz. Razzo Blue Pigment
1 oz. Razzo Black Pigment
1 oz. Razzo White Pigment
Small wooden stir sticks (10)
8 oz. plastic mixing cups (5)
2 oz. plastic mixing cups (10)
Square silicone coaster mold
Small silicone mat
1 pair of large latex gloves
FREQUENTLY BOUGHT TOGETHER
PRODUCT IN ACTION
SEE HOW EASY IT IS TO USE THE RAZZO STARTER KIT!
PRODUCT IN ACTION
SEE HOW EASY IT IS TO USE THE RAZZO STARTER KIT!
SPECIFICATIONS
TECHNICAL DATA
APPLICATION DATA
Application Temperature/RH: 50-100°F, relative humidity is 0-90%
Working Time: 30-60 minutes (for best results, stir mixed Razzo material in mixing cup often while working with it)
Demold Time: Approximately 1 to 12 hours, depending on thickness, mass, humidity and colorants added.
Full Cure Time: 5-10 days after demolding (thicker, larger castings will need longer than smaller ones, higher humidity will take longer)
Shelf Life: TotalBoat Razzo has a minimum shelf life of 1 year, if stored properly.
PHYSICAL DATA
Acrylic Liquid Color: White

Mineral Powder Color: Off White

Cured Color (Untinted): Off White

Mix Ratio by Volume: 1A:2B (1 part Acrylic Liquid (Part A) to 2 parts Mineral Powder (Part B))

Mix Ratio by Weight: 1A:2.2B (1 part Acrylic Liquid (Part A) to 2.2 parts Mineral Powder (Part B))
WATCH MORE VIDEOS
RAZZO DIRTY POUR TECHNIQUE

RAZZO TERRAZZO TECHNIQUE

RAZZO MARBLE TECHNIQUE

RAZZO TIPS FOR A SMOOTH SURFACE

INTRODUCING RAZZO, A MINERAL CASTING COMPOUND!
WHAT WILL YOU MAKE?
HOME IS WHERE YOUR ART IS
Artistry. Dimension. Beauty. Individuality. The joy of not knowing exactly how it'll turn out, but anticipating it'll be great because you designed and created it. Every demolding is like opening a gift. Especially with the Terrazzo technique - which only shows its true nature after wet sanding, when the confetti-like chips are revealed.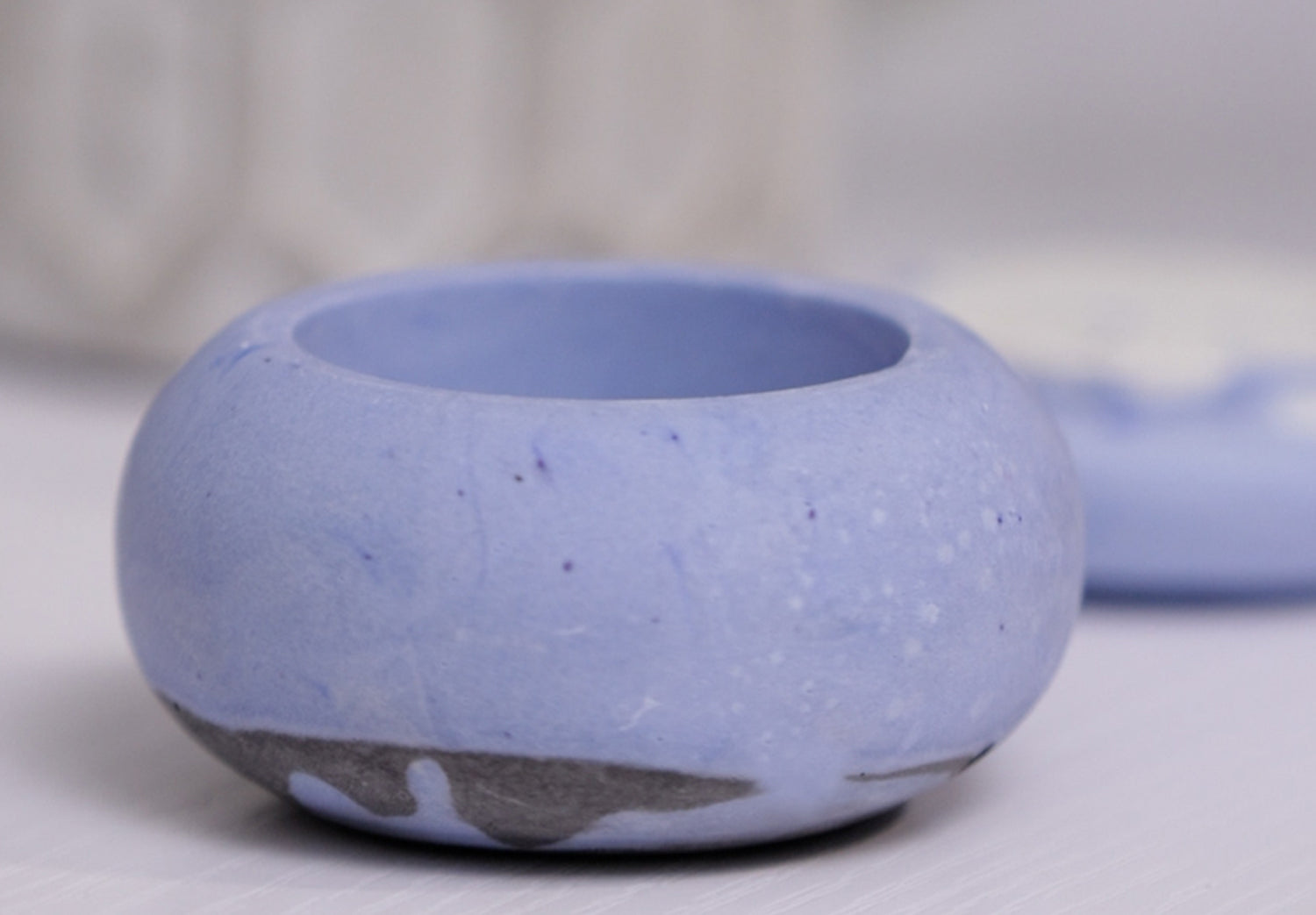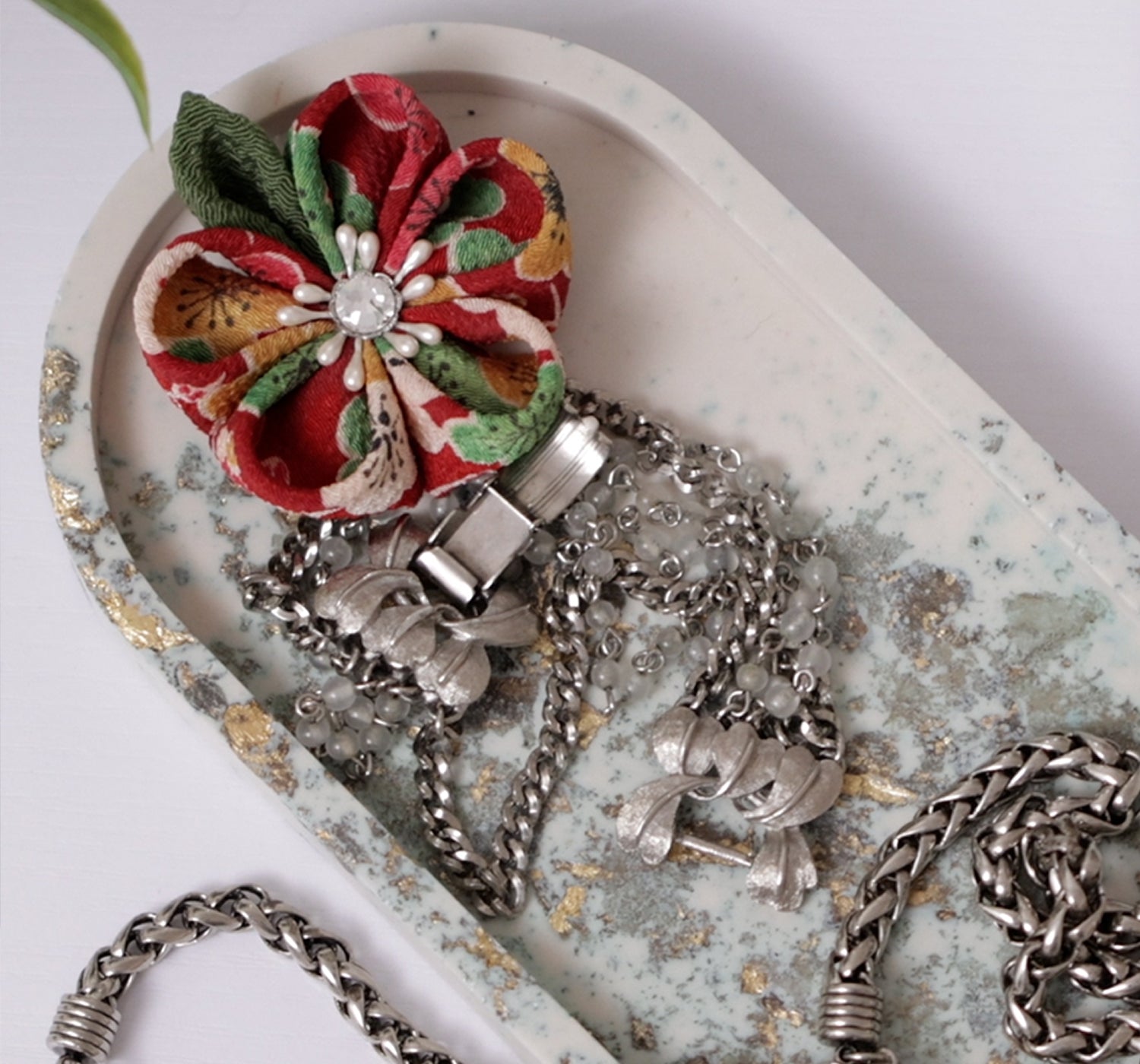 WHAT MOST PEOPLE ASK
FREQUENTLY ASKED QUESTIONS
How many coasters can I make with the Razzo Starter Kit?

You can make approximately 8 coasters.

Is Razzo the same as Jesmonite?

Razzo is a non-toxic mineral casting compound similar to Jesmonite, but with several advantages. Razzo is easier to measure, easier to mix, has a longer working time, and is more readily available than Jesmonite. Razzo can also be demolded at any time after curing, unlike Jesmonite, which should be demolded after two hours and left to cure completely (outside of the mold).

How much mixed volume does Razzo yield?

Razzo yields a mixed volume equal to the amount of Mineral Powder (Part B) used, by volume. For example, when measuring 1A:2B by volume, if you combine 2 oz. of Acrylic Liquid (Part A) and 4 oz. of Mineral Powder (Part B), the mixed volume will be 4 oz.

How much Razzo do I need to fill my mold?

Here's an easy way to estimate how much Razzo you need: Fill the mold with water, pour the water into a cup and measure the amount. Discard the water and dry the mold. Measure half that amount of Acrylic Liquid (Part A) and pour it into your mixing cup, then measure that original amount of Mineral Powder (Part B) by volume and pour it into the mixing cup and stir to mix thoroughly. For example, if you need 2 oz. of water to fill your mold, you would need (by volume) 1 oz. of Acrylic Liquid (Part A) and 2 oz. of Mineral Powder (Part B).

How do I get rid of bubbles in my Razzo casting?

Immediately after pouring, pinch the edges of the mold to release trapped air pockets. Use a toothpick to release air bubbles that are close to the surface. You can also tap the sides of your mold to release air bubbles, or lift the mold and drop it gently onto a flat surface.

When can I remove my Razzo piece from the mold?

Demold after at least one hour, when your piece is firm and cool to the touch. It may still feel a little moist, but that's not an issue. Set it aside and allow it to cure completely.

Is cured Razzo waterproof?

No. Cured Razzo is porous and should not be exposed to water/moisture for extended periods.

What can I use to seal Razzo?

We currently recommend using TotalBoat Halcyon Satin Varnish to seal Razzo and make it waterproof for use in soap dishes and other items that will be exposed to water/moisture for prolonged periods.

Is Razzo food safe, once cured?

No, Razzo is not safe for food contact. It's ideal for use as a trivet or a dinner plate charger (the decorative liner that goes under the dinner plate), but don't use it as a cheese board or charcuterie board.
WARNING:
Cancer and reproductive harm -
www.P65Warnings.ca.gov
(TotalBoat Razzo Acrylic Liquid); Cancer - www.P65Warnings.ca.gov (TotalBoat Razzo White Pigment)