Phosphoric acid-based treatment for rusted metal surfaces prior to priming and painting. Converts rust to an inert substance and leaves a protective coating that prevents further rusting. Use on bare, clean metal to prevent rust.
Regular price
$21.99 - $41.99
Sale price
$21.99
Regular price
Unit price
per
Free Shipping On All Orders
View full details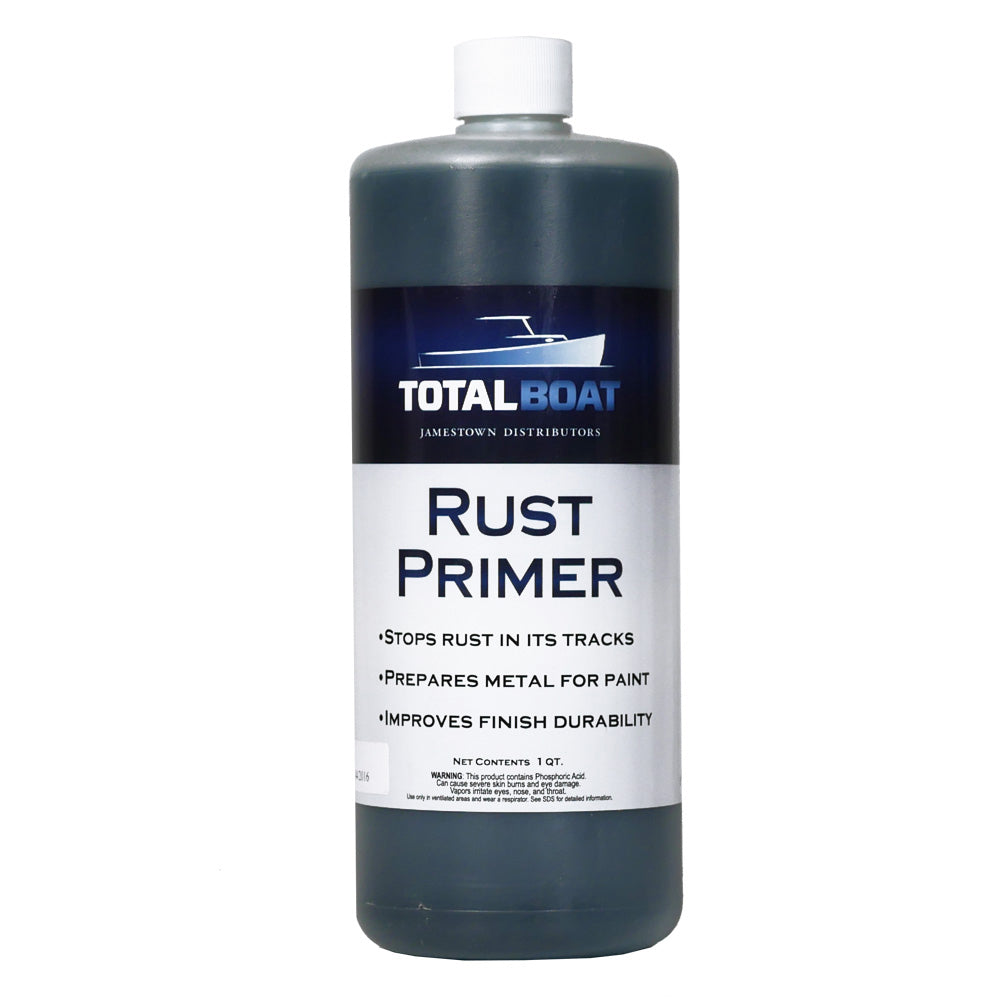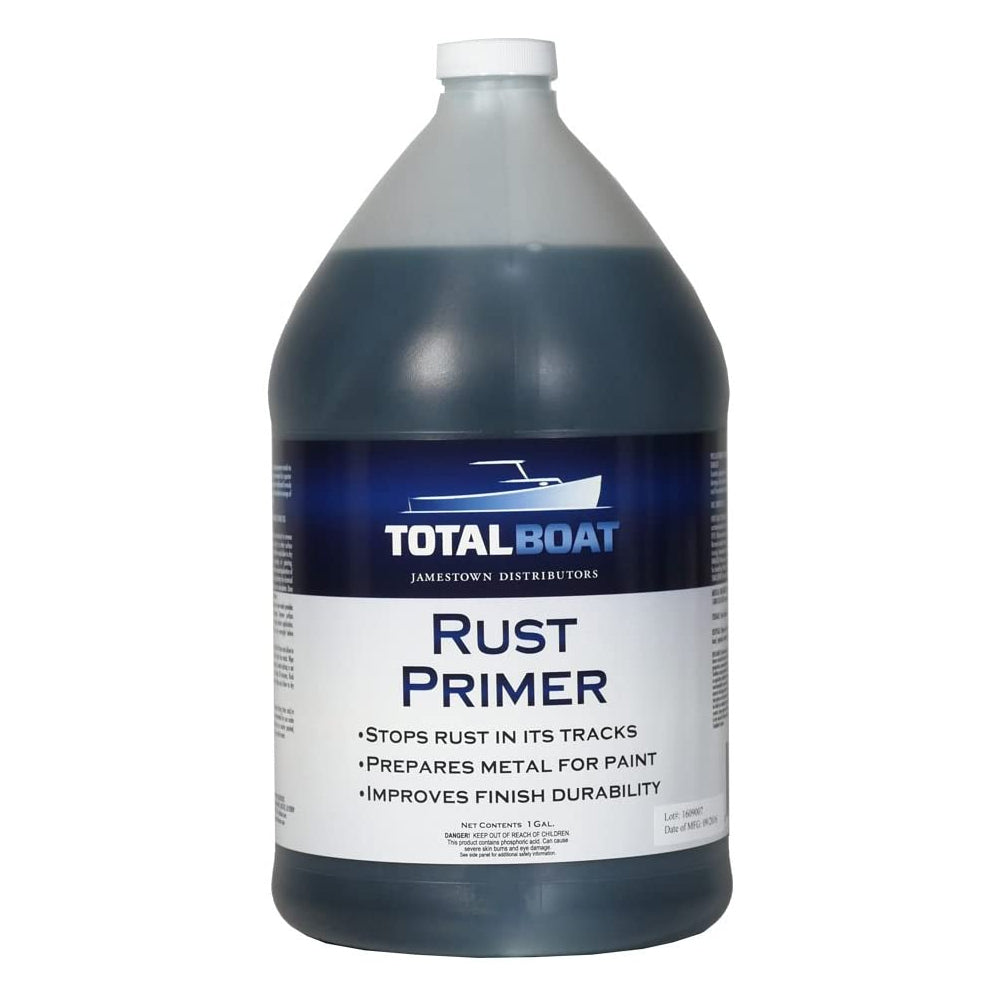 Description
Converts rusted metal to a surface ready for priming and painting
TotalBoat Rust Primer transforms rust by chemically converting something bad—iron oxide (rust!) to something good — iron phosphate — a very stable something that prevents further corrosion. Once Rust Primer's work is done, you can prime or paint right over it. No rubbing, no scrubbing, no hassle. And you know when it's done doing its thing because it turns black. It may be painted over once completely dry.
It's not a paint, but it makes a paint job last longer
To be clear, our Rust Primer is not a paint, it's a treatment for metal. And it's very, very thin so you get excellent coverage — especially into places you can't reach but rust can. Just use a wire brush first to remove any flaky rust or loose paint, brush or squirt Rust Primer on with a spray bottle and leave it to dry overnight. Not only will it leave the surface rust-free and protected, it'll make the surface such that primer and paint will adhere to it extremely well.
Neutralizes rust, seals the surface
Traditional rust converters or removers contain harsh acids that remove rust but leave the surface exposed to water and oxygen, allowing rust to form. You can't get away from water and oxygen, but Rust Primer keeps them away from your metal surfaces because it neutralizes the rust and coats the surface, sealing out air and moisture. So rust stays put and can't spread further, and future rust can't form under your new, beautiful paint job, or on metal parts that are too expensive or inconvenient to replace. It's OK to get excited — this is a truly remarkable, economical product that will save you time and elbow grease.
Rust Primer Details
Apply to properly prepared rusted, new, or clean, stripped metal — even stainless steel.
Neutralizes rusting action, converting rust to a stable surface that can be painted, or primed and painted.
Seals out moisture and oxygen to inhibit future rust and protect your paint job.
Simple application — nothing to mix or measure.
Can be welded through (wire brush the area after to remove slag, then reapply Rust Primer).
Phosphoric acid-based formula is not as harsh as hydrochloric/muriatic acid rust removers.
Great for boats, boat lifts, RVs, and trailers.
Product Color: Green
Dried Color: Black
Sizes: Available in Quart and Gallon sizes
Coverage: Over 500 square feet per gallon
SPECIFICATIONS
TECHNICAL DATA
Application Method: Brush or spray bottle
Application Temperature/RH: 50-90ºF, relative humidity 0-90%
Number of Coats: 1-2. After each coat, allow to dry overnight.
ADDITIONAL PRODUCT INFORMATION
WHAT MOST PEOPLE ASK
FREQUENTLY ASKED QUESTIONS
Do I need to prime over TotalBoat Rust Primer?

Yes, this product is not a finish primer. Using Rust Primer to encapsulate and convert rust to an inert material is the perfect first step before applying primer.

Does this product dry clear?

No, Rust Primer dries to a black appearance, even though the product color is a green liquid. The black color shows that it has reacted with rusted metal.

I applied this treatment and some areas turned black, but others have a white powdery residue. Is this a problem?

White residue is a normal byproduct of the chemical reaction. Simply wipe or brush off.

How should I apply this metal treatment?

We recommend applying Rust Primer with a brush or spray bottle. As it dries, the metal will turn dark, indicating the chemical change of the rust to an inert state. You will want to use a wire brush to remove any loose metal or scale beforehand, and any powdery residue after it is dry.

Note: Do not use a sprayer due to mists generated. Be sure to wear a respirator when applying this metal converter.

How long does Rust Primer take to work?

Once applied, rusty metal will begin to turn black within 20 minutes. The chemical reaction stops once the surface is dry. Keep metal wet for 30 minutes or more for best results.

How many applications are needed to encapsulate rust?

We recommend applying one to two applications. Allow it to dry overnight each time.

Can it be used on aluminum?

No. Do not use this product on corroded aluminum, as it will cause further corrosion. Rust Primer is best suited for iron and steel.

Do surfaces treated with Rust Primer have to be painted?

Yes, otherwise rust will quickly return. Rust Primer is not a finish product; use to isolate rust prior to priming and painting.

In what temperature range will this product be effective on rusted metal?

The recommended temperature for application is 50 – 90ºF.

What is the coverage per gallon?

The coverage of the Rust Primer is over 500 sq ft per gallon. It is a very thin liquid, with a consistency close to water.

Is Rust Primer water-based?

Yes, it does contain 25-50% phosphoric acid that converts rust to an oxide that is paintable.

What is the shelf life once it has been opened and resealed?

There is no known shelf life.