Vibrantly colored, water-resistant, Japanese dye-based alcohol inks for creating long-lasting color, depth, layering, and stunning effects when tinting epoxy, painting, dying fabric, making jewelry, stamping, and more. Use these versatile inks with epoxy resin, wood, glass, ceramics, glossy paper, stone, leather, vinyl, plastic, foil, fiberglass, vellum, polymer clay, and other non-porous surfaces. Starter Kit includes 12 20ml bottles: 11 highly saturated alcohol inks and 1 clear blender.
Sale price
$29.99
Regular price
Unit price
per
Free Shipping On All Orders
View full details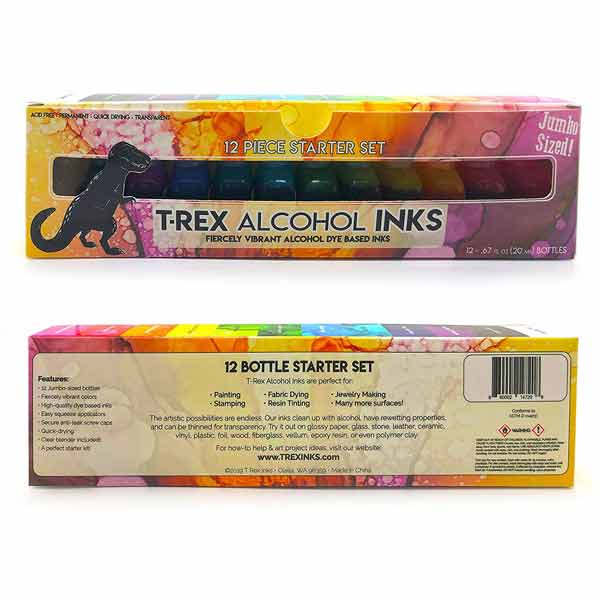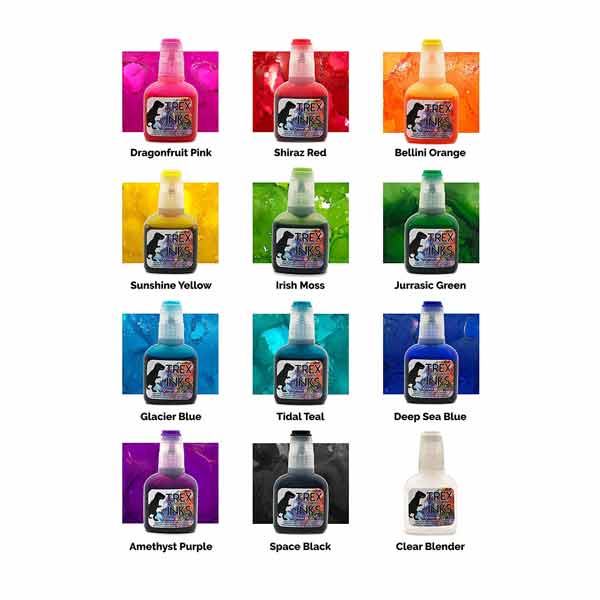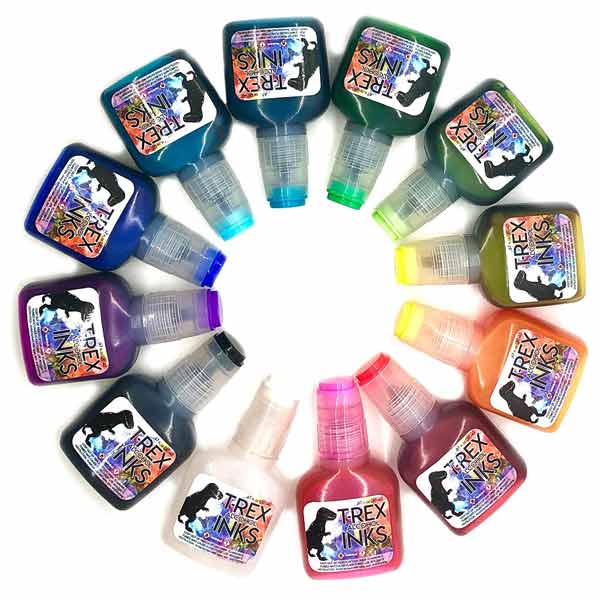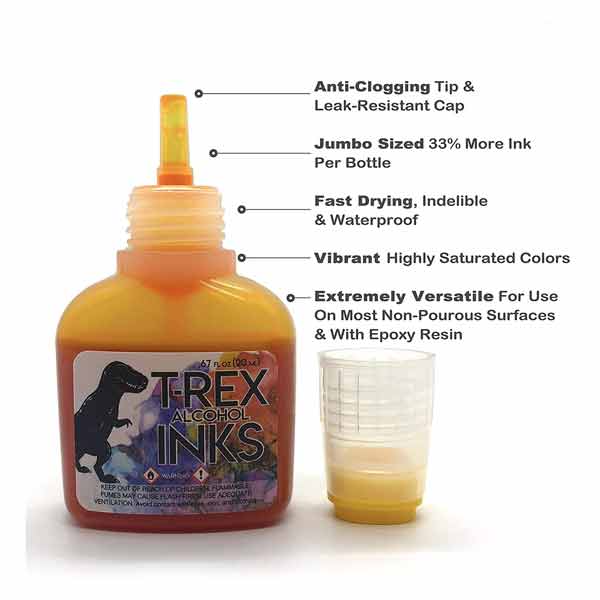 Description
T-Rex Alcohol Inks open up a whole new world of custom color possibilities for your epoxy art, epoxy resin painting, alcohol ink painting, woodworking, jewelry making, and craft projects. Alcohol inks are great for coloring epoxy because they're alcohol based — the alcohol evaporates quickly, leaving only vibrant pigment, and doesn't affect the curing of the epoxy.
T-Rex Alcohol Ink Details
Highly saturated, vibrant colors – a little goes a long way!
Ideal for use on non-porous surfaces.
Rewetting properties allow greater creativity.
Can be thinned for transparency.
Indelible
Quick-drying
100% acid free
Precision applicator
Anti-clogging
Leak-resistant
Easy to clean up with alcohol.
20ml bottles are 33% larger than other alcohol inks so you won't run out of ink in the middle of a project.
These vibrant, Japanese dye-based inks were developed by artists who selected the colors in this convenient 12-bottle T-Rex Starter Pack based on extensive testing and attention to getting the perfect colors and pigment densities. The kit contains 11 bottles of different colors and 1 bottle of clear blender, which helps you move the ink colors around on your particular medium so you get color exactly where you want it, and as diluted as you want before the inks dry.
Starter Pack Includes 12 20 ml Bottles (11 Colors and 1 Clear Blender)
Dragonfruit Pink
Shiraz Red
Sunshine Yellow
Bellini Orange
Jurassic Green
Irish Moss
Tidal Teal
Glacier Blue
Deep Sea Blue
Amethyst Purple
Space Black
Clear Blender
Watch More Videos
Using Blue Alcohol Ink as An Epoxy Resin Tint

Alcohol Ink Painting: Clear Blender Solution VS Isopropyl Alcohol for blending
ADDITIONAL PRODUCT INFORMATION