EXTRA LONG POT LIFE & WORKING TIME
FOR BONDING, COATING, LAYUPS AND LAMINATING
EASY TO DISPENSE WITH TOTALBOAT 3:1 PUMPS
PACKAGED IN A CONVENIENT KIT
Extra slow-curing Tropical Epoxy gives you extra long working time in normal conditions, but also provides adequate working time in very warm, humid conditions. Kits contain resin and hardener.
Regular price
$77.99 - $159.99
Sale price
$77.99
Regular price
Unit price
per
Free Shipping On All Orders
EXTRA LONG POT LIFE & WORKING TIME
FOR BONDING, COATING, LAYUPS AND LAMINATING
EASY TO DISPENSE WITH TOTALBOAT 3:1 PUMPS
PACKAGED IN A CONVENIENT KIT
View full details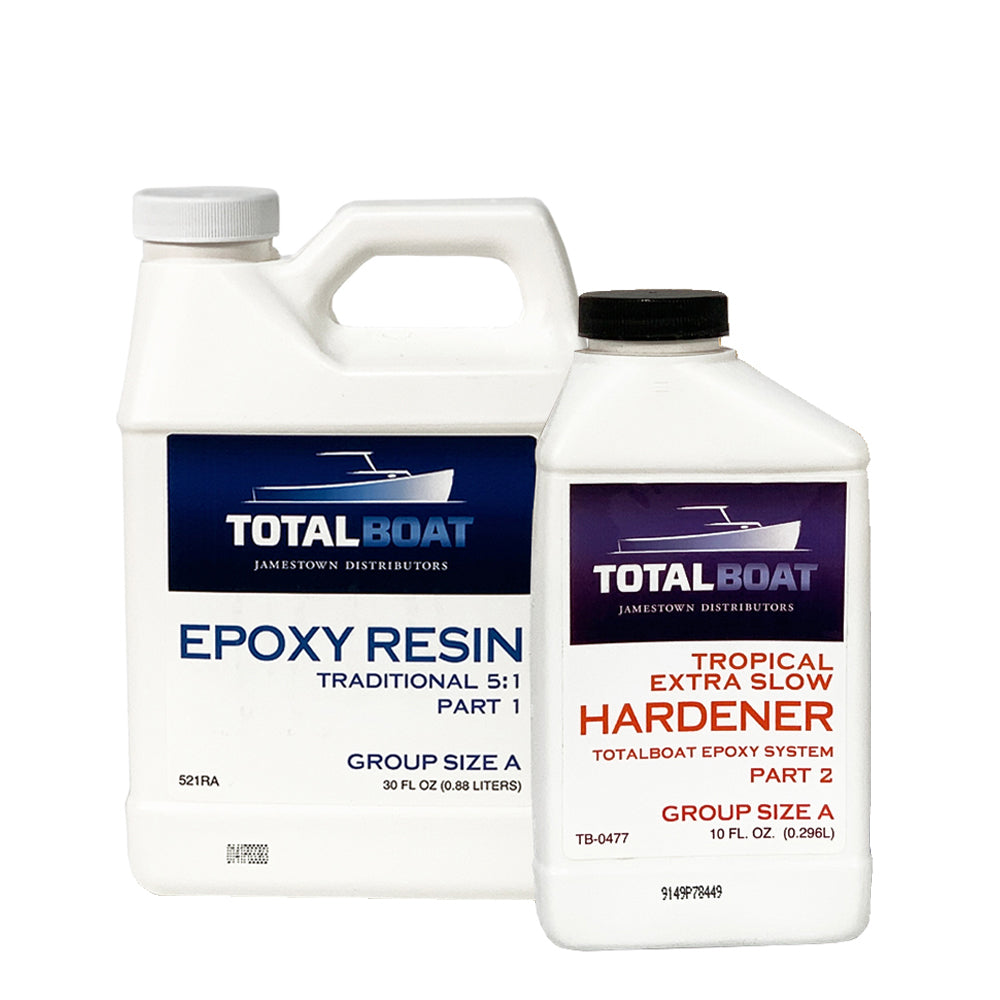 Description
Extra long pot life and working time give you more time to do the job right
TotalBoat Tropical Epoxy Kits give you more time to work before the resin kicks, which is great when you're coating large areas, covering a lot of joints, or assembling parts and need more time than a regular or slow cure rate epoxy provides. In fact, TotalBoat Tropical Kits give you twice the working time (46 minutes) at room temperature as our TotalBoat Slow Epoxy Kits (20 minutes).

So whether you're completing larger, more intricate repairs, doing a deck job, glassing a hull, or need more time to prepare a T-Top hardtop for vacuum bagging, our extra slow cure TotalBoat Tropical Epoxy Kits offer the most desired working properties in normal to very warm temperatures, without heating up or tacking up on you.
Tropical Epoxy Kit Details
Gives you twice as much working time at room temperature, compared to our Slow Epoxy Kits.
Provides extra long pot life and working time in normal conditions.
Ensures adequate working time in extremely warm, humid conditions.
Ideal for bonding, layup, laminating, and coating applications.
Viscosity wets out fiberglass and other composite fabrics easily.
Provides smooth flow-out & self-leveling perfect for coating and laminating.
Provides good moisture resistance for bonding and barrier coating applications.
Creates a durable base for varnishes and paints.
Combined with thickeners, creates a strong adhesive or filleting/fairing compound.
Use on prepared wood, fiberglass, reinforcement fabrics, bare steel, etched aluminum, and lead.
Easy to measure by weight or by volume.
Mixed color: Clear amber (Traditional Epoxy Resin is clear, Tropical Hardener is light amber)
System Sizes: Group Size A is the Quart Kit; Group Size B is the Gallon Kit
IMPORTANT: This product cures to a clear amber color, so it is not intended for clear coating applications. For an ultra-clear, non-blushing epoxy we recommend TotalBoat High Performance Epoxy Kits.
| | | |
| --- | --- | --- |
| Group Size | Traditional Epoxy Resin Quantity |  Tropical Hardener Quantity |
| Group Size A (Quart Kit) | 30 fl. oz. | 10 fl. oz. |
| Group Size B (Gallon Kit) | 127 fl. oz. | 42.3 fl. oz. |


Three easy ways to measure
By Volume: Measure THREE parts TotalBoat Traditional Epoxy Resin to ONE part TotalBoat Tropical Hardener
By Pumps: Use the TotalBoat 3:1 Epoxy Pumps (sold separately) to dispense the resin and hardener in the precise proportions, by volume. All you have to do is apply one full stroke of the hardener pump for every one full stroke of the resin pump. The 3:1 mix ratio is preset and is required for a proper cure.
By Weight: Measure 100A:28B
After measuring, stir well for about two minutes to combine thoroughly, before adding fillers or applying.
Important Safety Information

Always wear protective clothing and equipment to protect your eyes, skin, and lungs when working with TotalBoat Traditional Epoxy Resin and Hardeners. Personal protective clothing should include appropriate gloves, safety glasses or goggles, a proper respirator, and a proper apron or similar protective clothing.
SPECIFICATIONS
TECHNICAL DATA
APPLICATION DATA
Substrates: Fiberglass, epoxy, wood (pressure treated wood is not recommended), properly prepared metals, masonry, concrete, glass, stone, some plastics
Application Method: Brush, Roller, or Syringe; can also be poured and spread with an epoxy spreader.
Application Temperature/RH: Minimum 55°F; for best results, 70-105°F, relative humidity 0-90%
Working Time (Varies by Mass of Mixed Epoxy): 5-15 minutes @ 75°F
Working Life (Applied Immediately at Thin Film): 3-4 hours @ 75°F
Pot Life (150g mass @ 75°F): 46 minutes
Full Cure (for High Loads/Stresses): 5-7 days @ 75°F
Shelf Life: At least 1 year (under proper storage conditions)
PHYSICAL DATA
Cured Color/Finish: Clear/amber

Mix Ratio (By Volume): 3A:1B (3 parts epoxy resin to 1 part hardener)

UV Stable: No. This product has some UV resistance, but is not designed as a finishing material.

Volumetric Yield: 24.1 in³/lb

Hardness: 85 Shore D
PRIMER, THINNER, PREP & CLEANUP SOLVENTS
Primer: No primers are necessary; etching with TotalBoat Aluminum Boat Etch Wash is highly recommended on bare aluminum substrates, and TotalBoat Rust Primer is recommended on ferrous steel applications.

Thinner: Do not thin.

Mold Release Agents: Mold release paste wax, aerosol mold release agents

Surface Prep Solvent: Acetone or denatured alcohol or TotalBoat Eco Solvent

Cleanup Solvent: Denatured alcohol or acetone. Once cured, it must be removed mechanically.