IMPROVES FLOW FOR BRUSH & ROLLER APPLICATIONS
EXTENDS WET-EDGE WORKING TIME
Versatile brushing thinner improves flow characteristics and slows drying to extend wet edge working time for specified TotalBoat coatings. Also great for removing paint from tools and equipment, making cleanup easier and faster.
Regular price
$23.99 - $42.99
Sale price
$23.99
Regular price
Unit price
per
Free Shipping On All Orders
IMPROVES FLOW FOR BRUSH & ROLLER APPLICATIONS
EXTENDS WET-EDGE WORKING TIME
View full details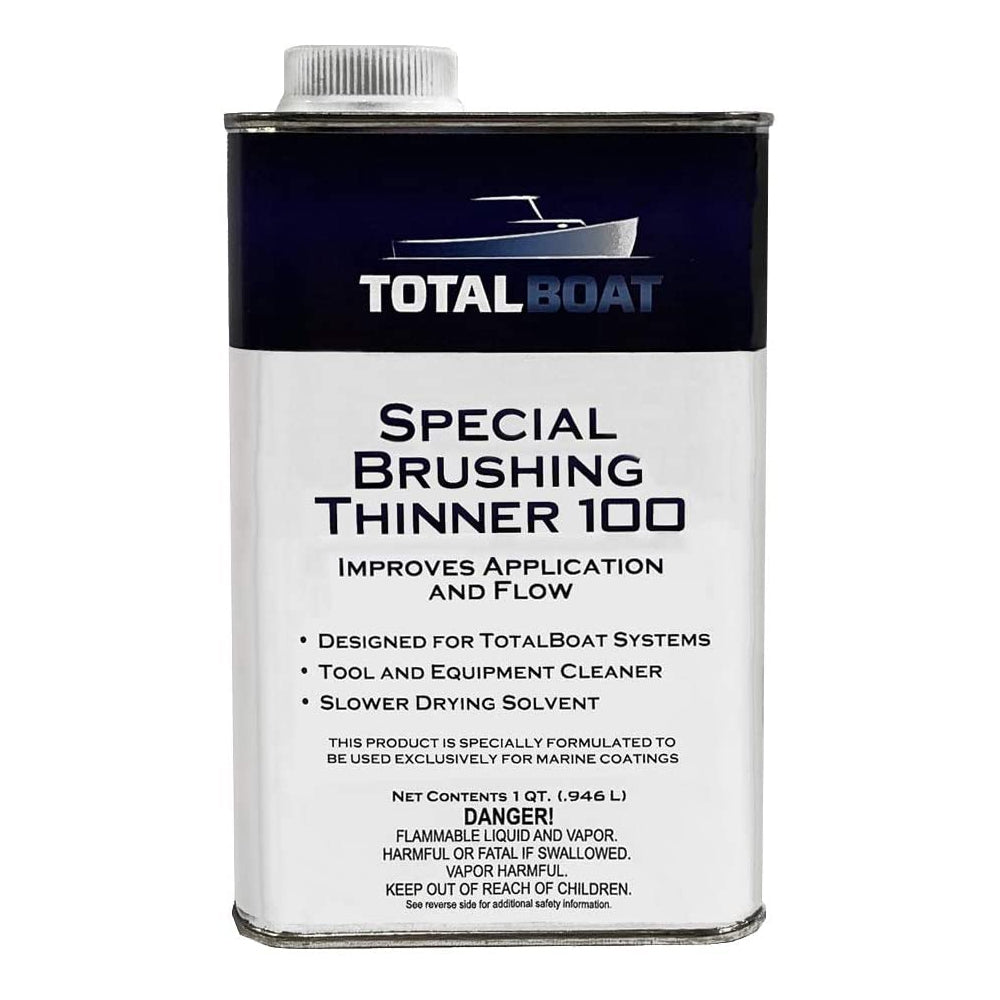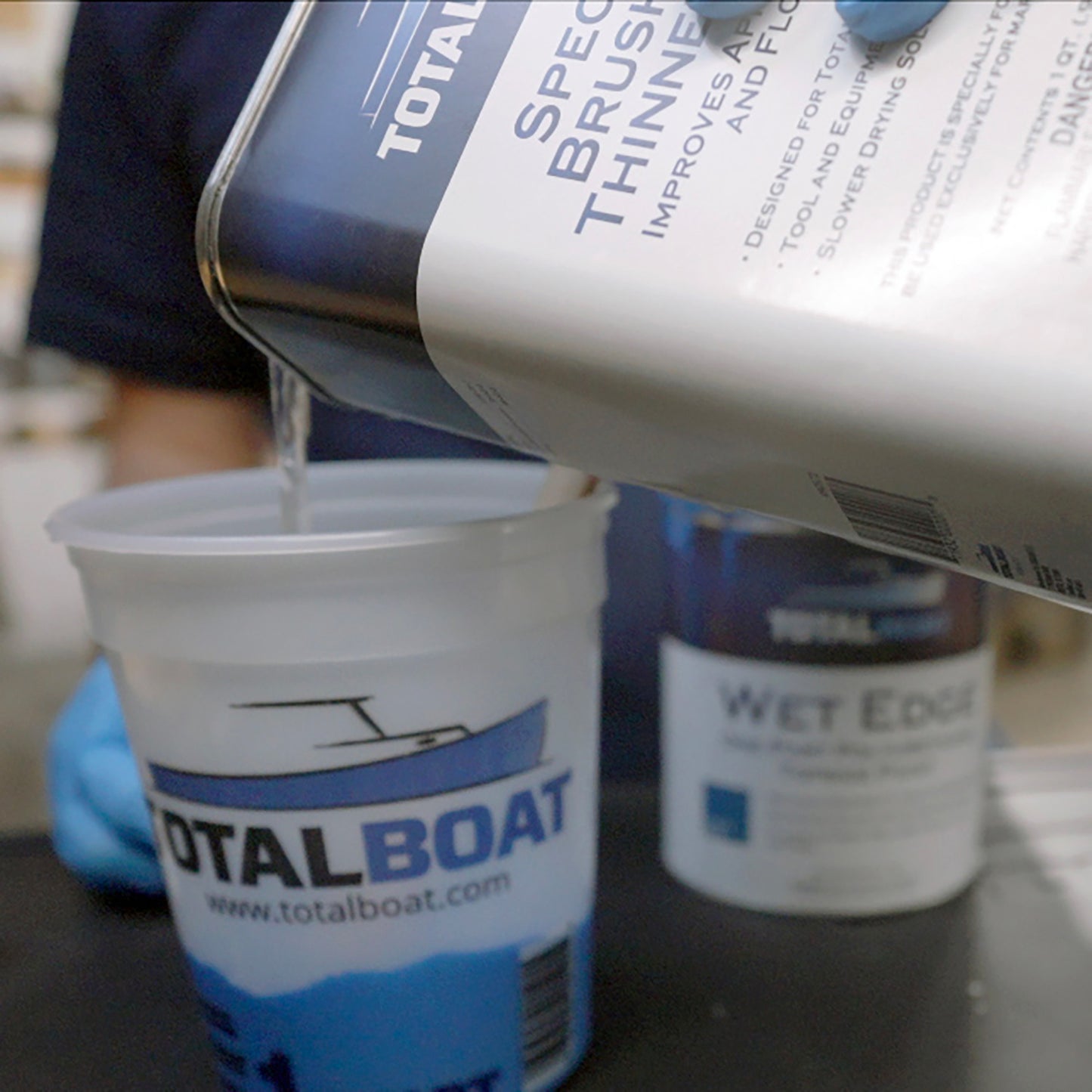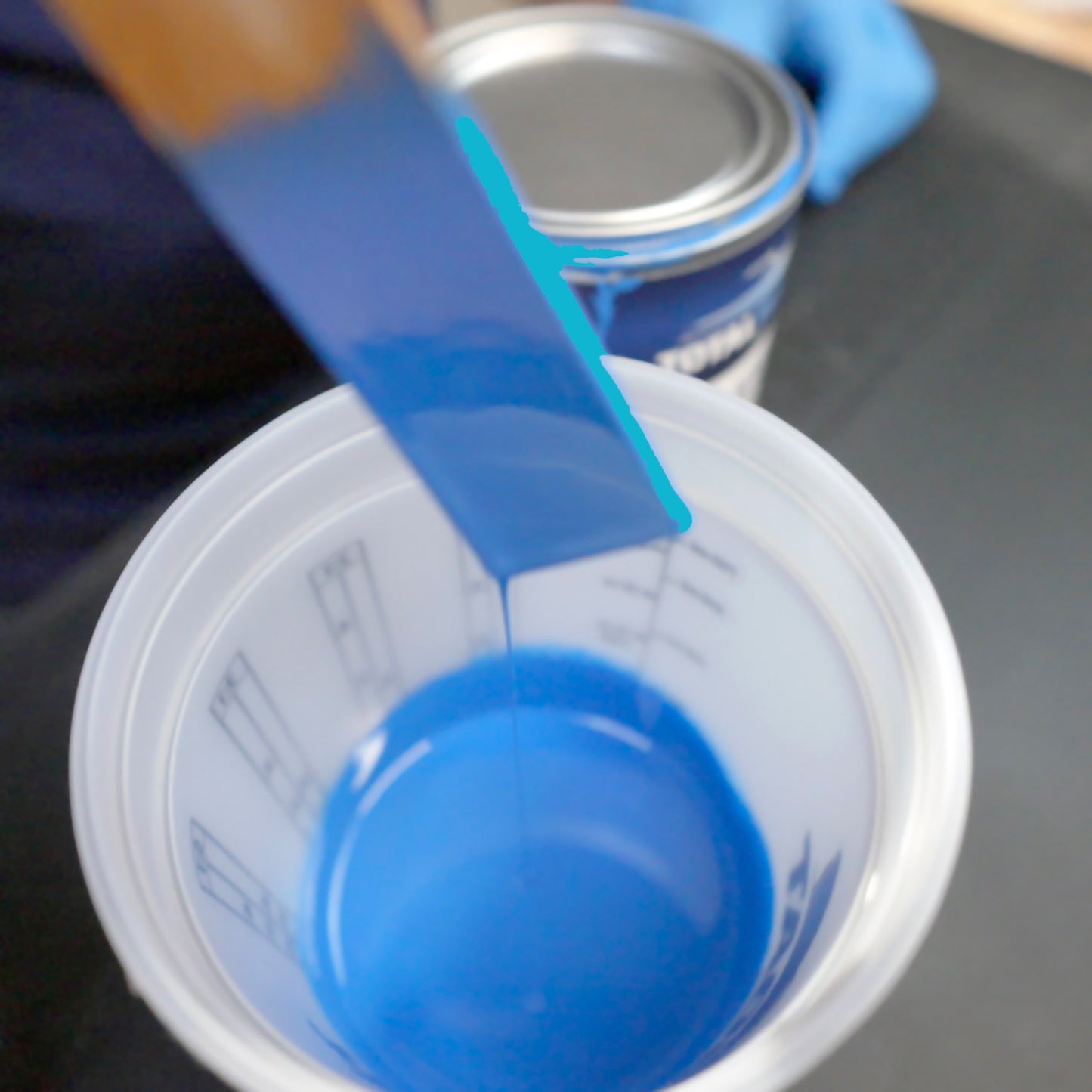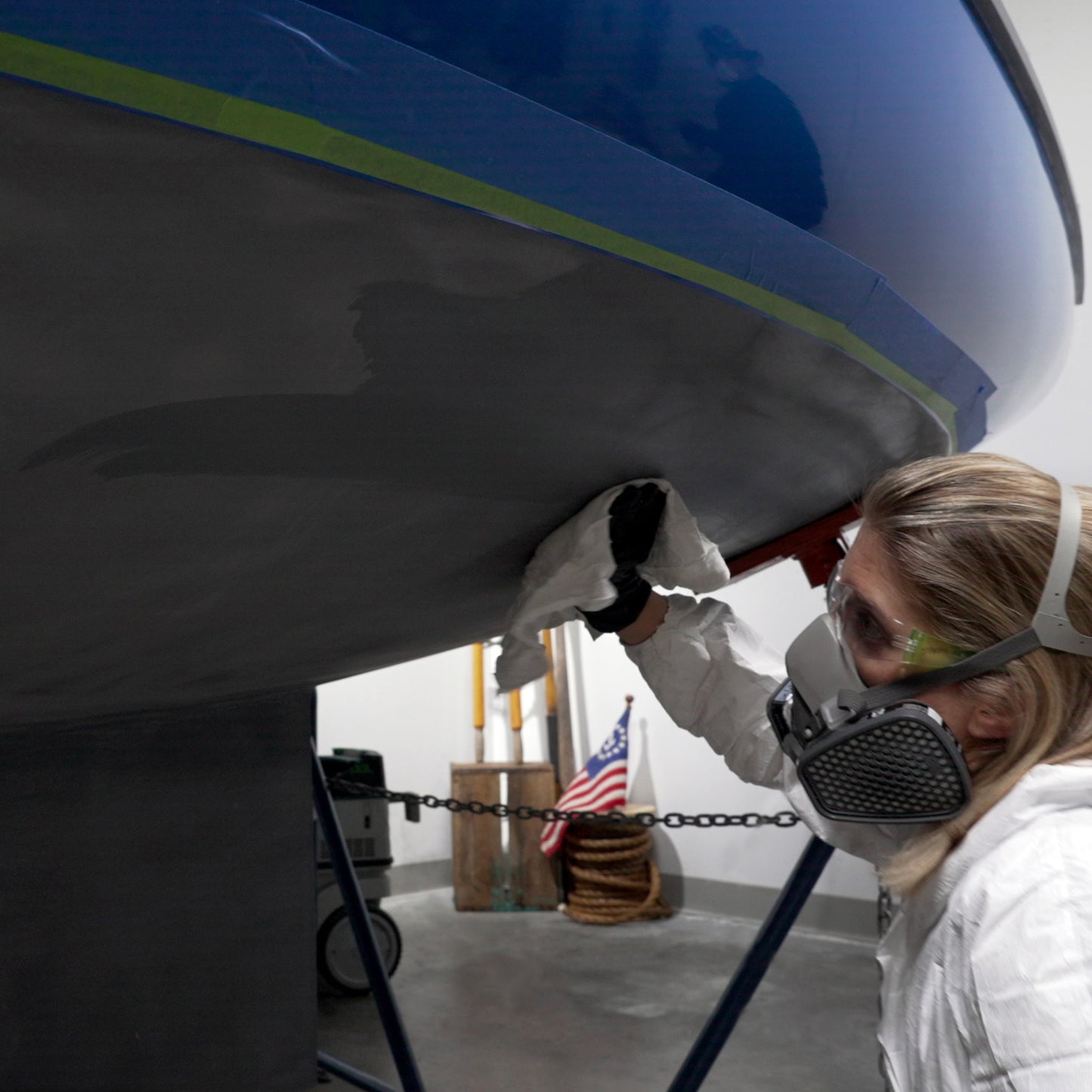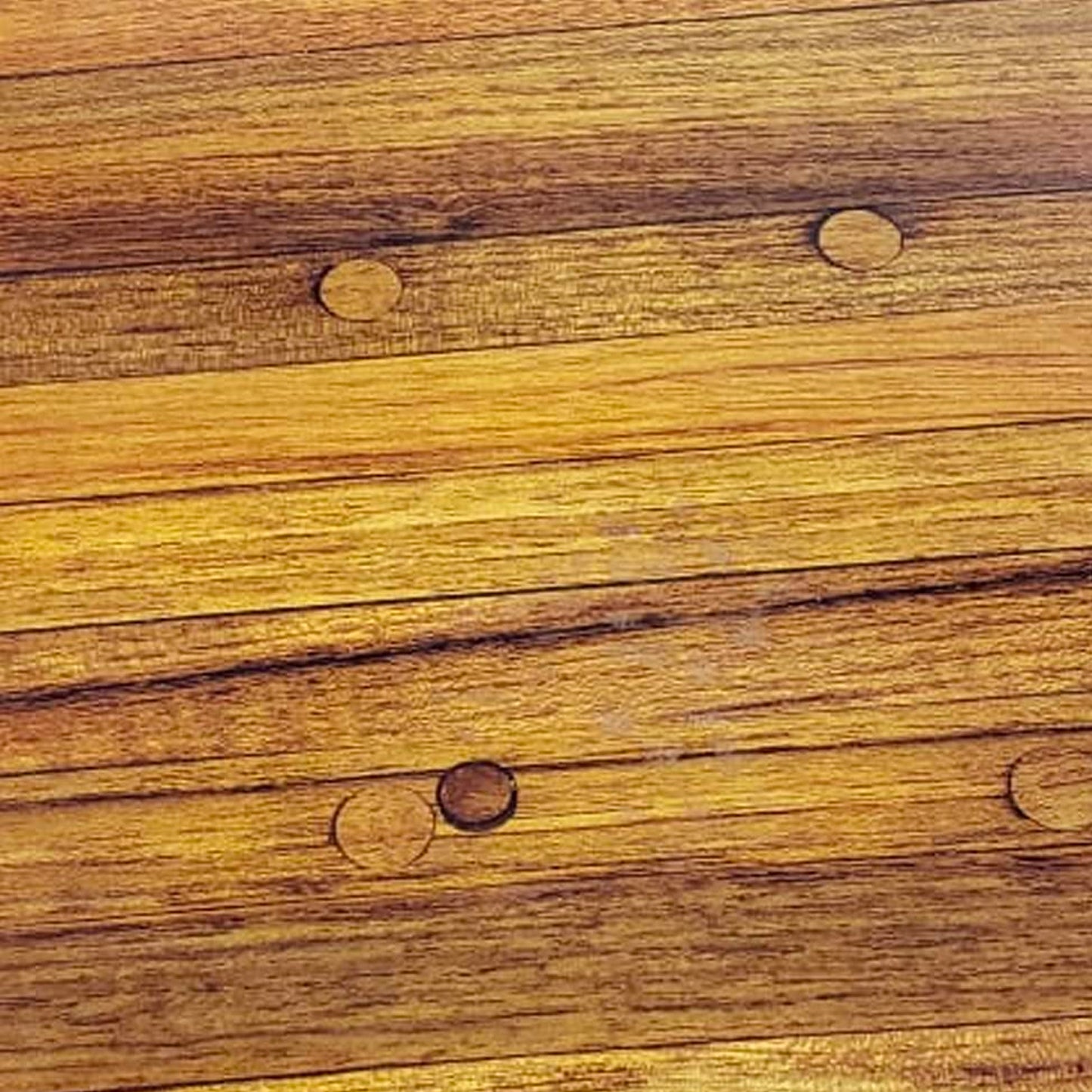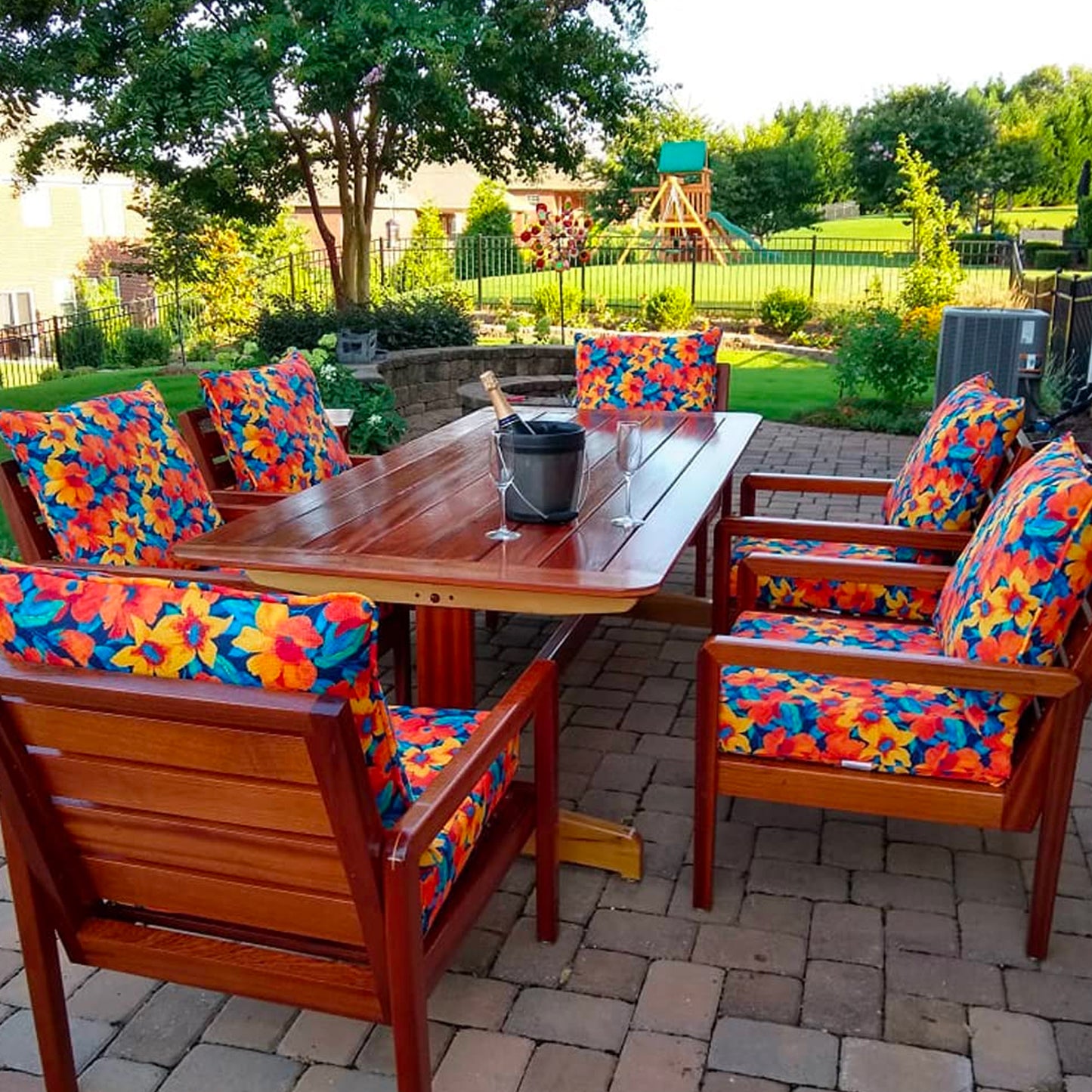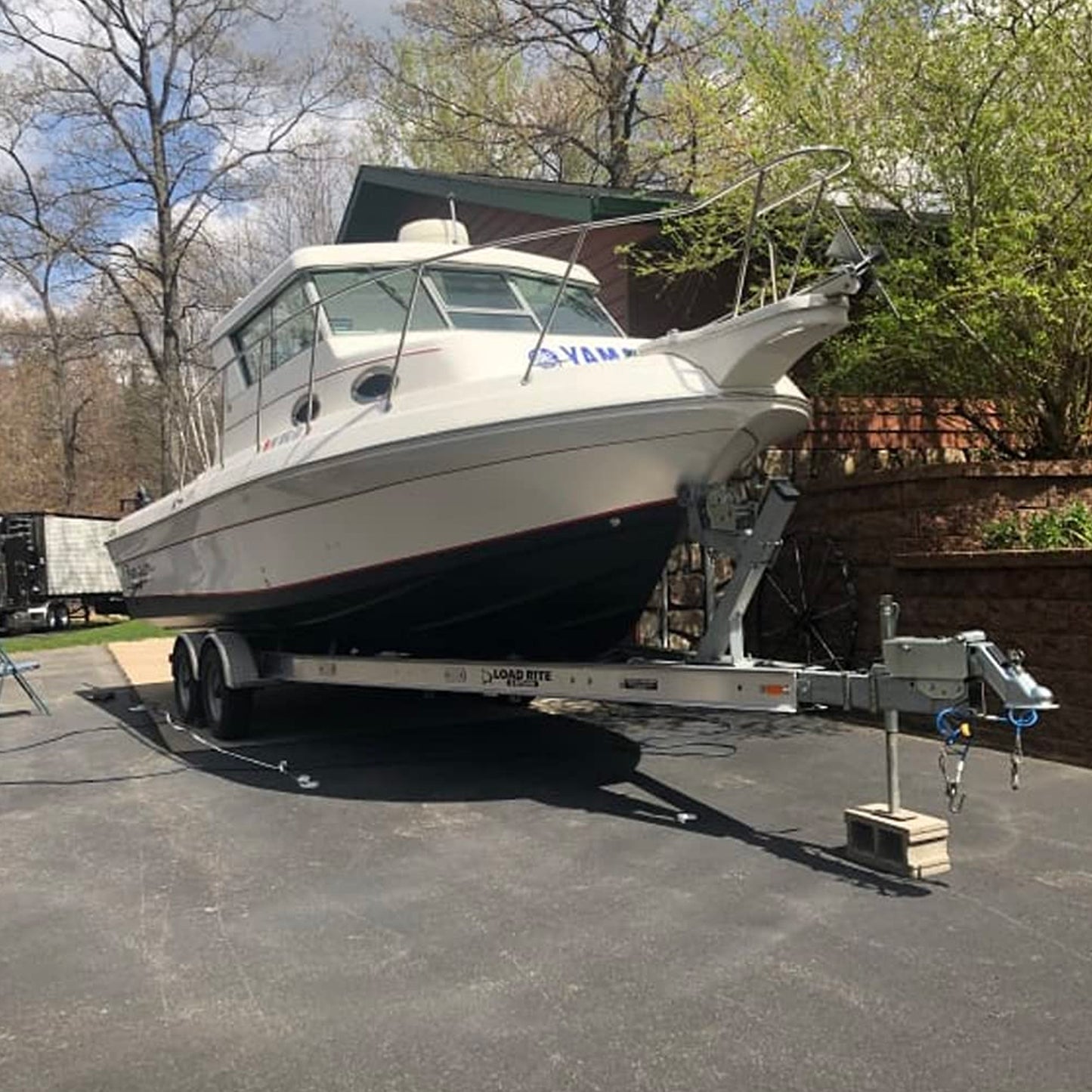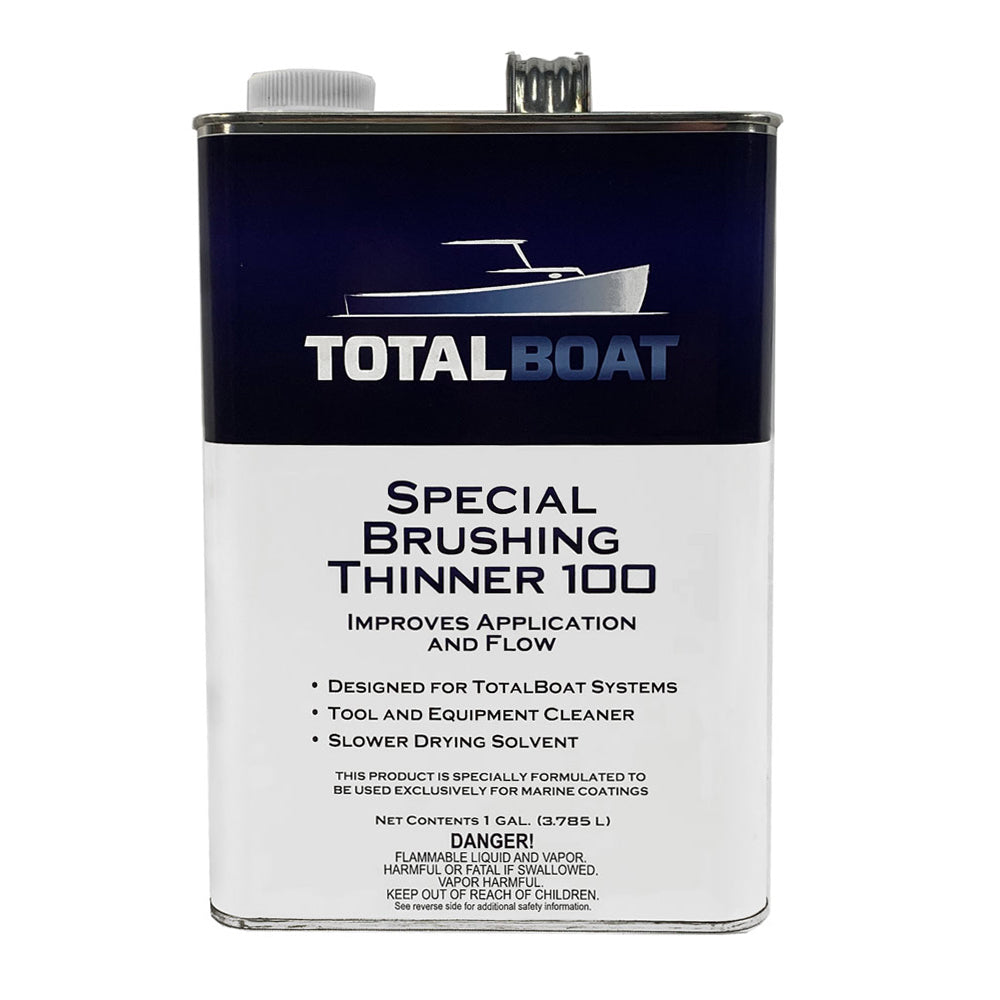 Description
For brush or roller applications, TotalBoat Special Brushing Thinner 100 can be used to thin specified solvent-based TotalBoat paints to make them flow more smoothly. Improved flow characteristics make application easier, enhance the finish quality, and extend the service life of the coating.

Special Brushing Thinner 100 can also be used in warmer temperature conditions to give you more wet edge working time and improve flow for TotalBoat Topside Primer, TotalBoat TotalBilge, and TotalBoat Lust Spar Varnish.

When you're done painting, use Brushing Thinner 100 to get the paint off your tools and equipment quickly and thoroughly.
For use with specified TotalBoat products. Mix with primers or paints, as needed, and as recommended.
Sizes: Quart and Gallon
Use as a brushing thinner for specified TotalBoat products
TotalBoat Special Brushing Thinner 100 is not designed for use with all TotalBoat products. See usage recommendations below. Please contact our Tech Team members at (800) 497-0010 if you have any questions regarding compatibility or usage.
Improves flow for these TotalBoat products
Wet Edge Topside Paint
Wet Edge Cold Cure Topside Paint
TotalGold One-Part Gold Paint
TotalTread Non-Skid Deck Paint
Underdog Ablative Bottom Paint
Spartan Multi-Season Ablative Bottom Paint
Krypton copper-free antifouling bottom paint (brush application)
AlumiPaint AF antifouling bottom paint for aluminum boats and pontoon boats (brush application)
Aluminum Boat Barrier Coat
Outdrive AF Copper-Free Outdrive and Prop Antifouling Paint
Gleam 2.0 Spar Varnish
TotalBoat Topside Primer
Improves flow and extends wet edge working time above 75°F for:
TotalBoat Topside Primer
TotalBoat TotalBilge Protective Bilge Paint
TotalBoat Lust One-Part Rapid Recoat Spar Varnish (80 to 105°F)
DO NOT USE Thinner 100 with these TotalBoat products
JD Select ablative antifouling bottom paint
Aluminum Boat Barrier Coat
Aluminum Boat Topside Paint
Inflatable Boat Paint
2-Part Epoxy Primers
Envy 2-Part Varnish
Halcyon Varnish
TotalProtect Epoxy Barrier Coat Primer
Aluminum Boat Barrier Coat
Thinning Notes
TotalBoat Spray Thinner 101 can be substituted for Special Brushing Thinner 100 in cool-weather applications, below 60°F, to promote excellent flow, wet edge properties, and faster dry times. In addition, Spray Thinner 101 is the recomended thinner for spray application of most TotalBoat one-part finishes.
FREQUENTLY BOUGHT TOGETHER
PRODUCT IN ACTION
SEE HOW EASY IT IS TO USE SPECIAL BRUSHING THINNER 100
PRODUCT IN ACTION
SEE HOW EASY IT IS TO USE SPECIAL BRUSHING THINNER 100
SPECIFICATIONS
TECHNICAL DATA
Solvent Type: Thinner, surface prep, and tool cleaner
Application Method: Mix with specified TotalBoat paints or primers, as needed.
VOC Content: Less than 870 g/L
Storage: Store in a cool, dry area away from flames or heat sources.
Warning! Rags, steel wool, or waste soaked with Special Brushing Thinner 100 may catch fire spontaneously if discarded improperly. Immediately after use, place rags, steel wool, or waste in a sealed, water-filled metal container.
ADDITIONAL PRODUCT INFORMATION
WHAT MOST PEOPLE ASK
FREQUENTLY ASKED QUESTIONS
Can Brushing Thinner 100 be used with all TotalBoat products?

TotalBoat Special Brushing Thinner 100 is not for use with all TotalBoat products. It is formulated especially for use with TotalBoat Wet Edge topside paint, TotalGold, TotalTread non-skid paint, and others. Do not use this thinner with JD Select, Aluminum Boat Topside Paint, Envy 2-Part Varnish, Inflatable Boat Paint, 2-Part Epoxy Primers, TotalProtect, or Aluminum Boat Barrier Coat.

What is the difference between Brushing Thinner 100 and Acetone?

TotalBoat Brushing Thinner 100 solvent contains high flash naphtha, not acetone.

Can Brushing Thinner 100 be used with one part paints from other manufacturers?

In general, yes. Although Special Brushing Thinner 100 was originally formulated to improve the flow of Wet Edge topside paint, TotalTread Non-Skid paint, 1-part varnishes, and others, it may also be used with other 1-part polyurethane finishes.

Is this solvent intended only for use in warm weather?

No, it's not intended for use only in warmer temperatures. However, although Thinner 100 is the recommended brushing thinner for most TotalBoat one-part, solvent-based finishes, you may prefer thinning with

TotalBoat Spray Thinner 101

for faster dry times when brushing/rolling in cooler conditions that typically slow the evaporation rate.

How much Thinner 100 should be used for varnishing in warm weather?

Thin the first coat of

TotalBoat Gleam

or

Lust varnish

50% with Thinner 100. For a high gloss, thin later coats no more than 8 to 10%. You may even thin the final coat as little as 5%.

What is the right way to add this solvent to the paint or varnish you are using it with?

Add TotalBoat Special Brushing Thinner 100 slowly and carefully to the paint or varnish to avoid spillage. Then, mix it thoroughly until the desired viscosity is reached.

Why would you need to use this thinner when painting, priming, or varnishing?

Using Thinner 100 will create a smoother flow, making it easier to apply paint, primer, or varnish. Due to its slower drying properties, Thinner 100 extends the working time in warm weather conditions.
WARNING:
This product can expose you to chemicals including cumene, which is known to the State of California to cause cancer. For more information, go to
www.P65Warnings.ca.gov