IMPROVES FLOW FOR SPRAY APPLICATION
Fast-evaporating reducing solvent used to thin most TotalBoat one-part paints, primers, and varnishes to improve flow for spray application. Below 60°F, it can be used as a thinner for brushing and rolling applications.
Regular price
$23.99 - $42.99
Sale price
$23.99
Regular price
Unit price
per
Free Shipping On All Orders
IMPROVES FLOW FOR SPRAY APPLICATION
View full details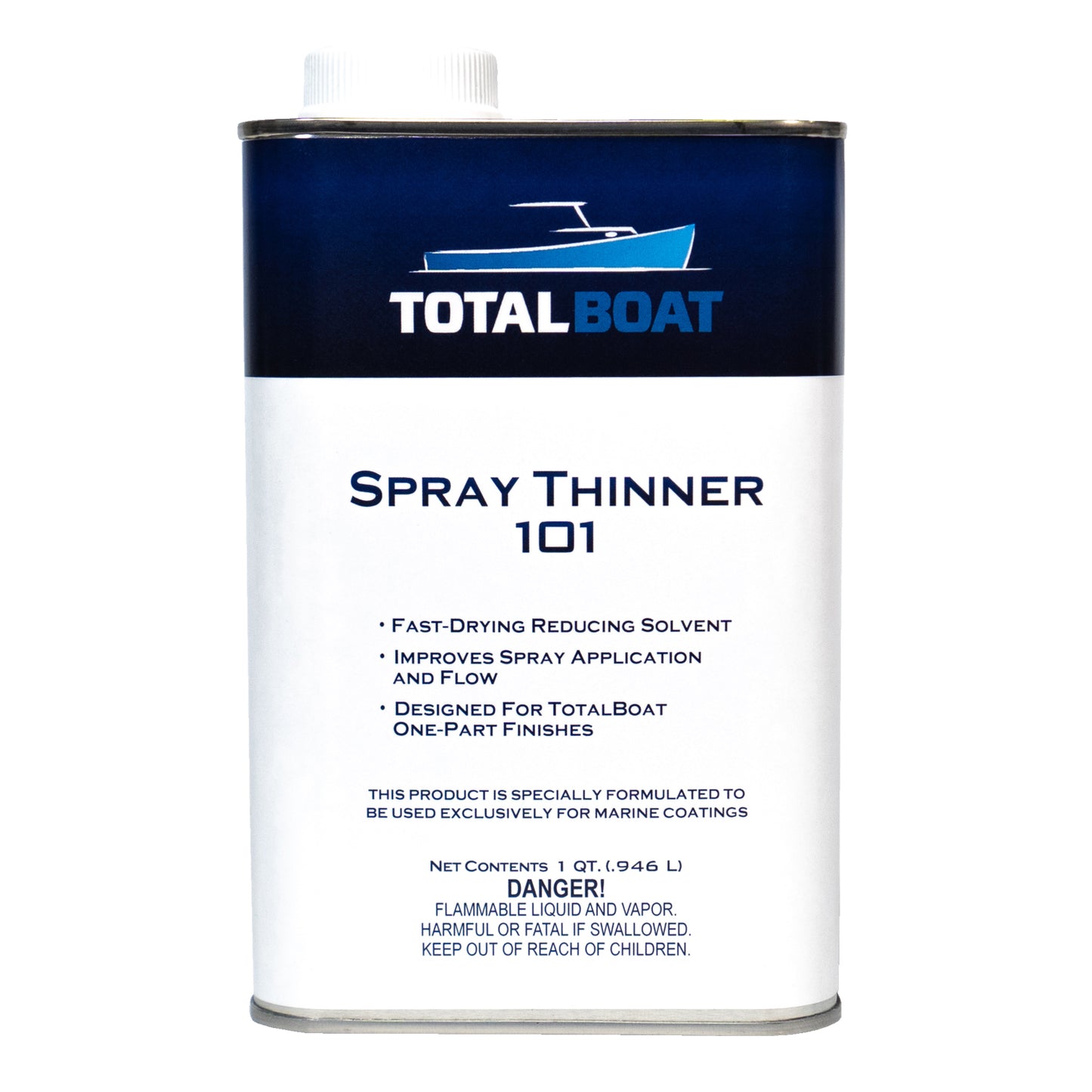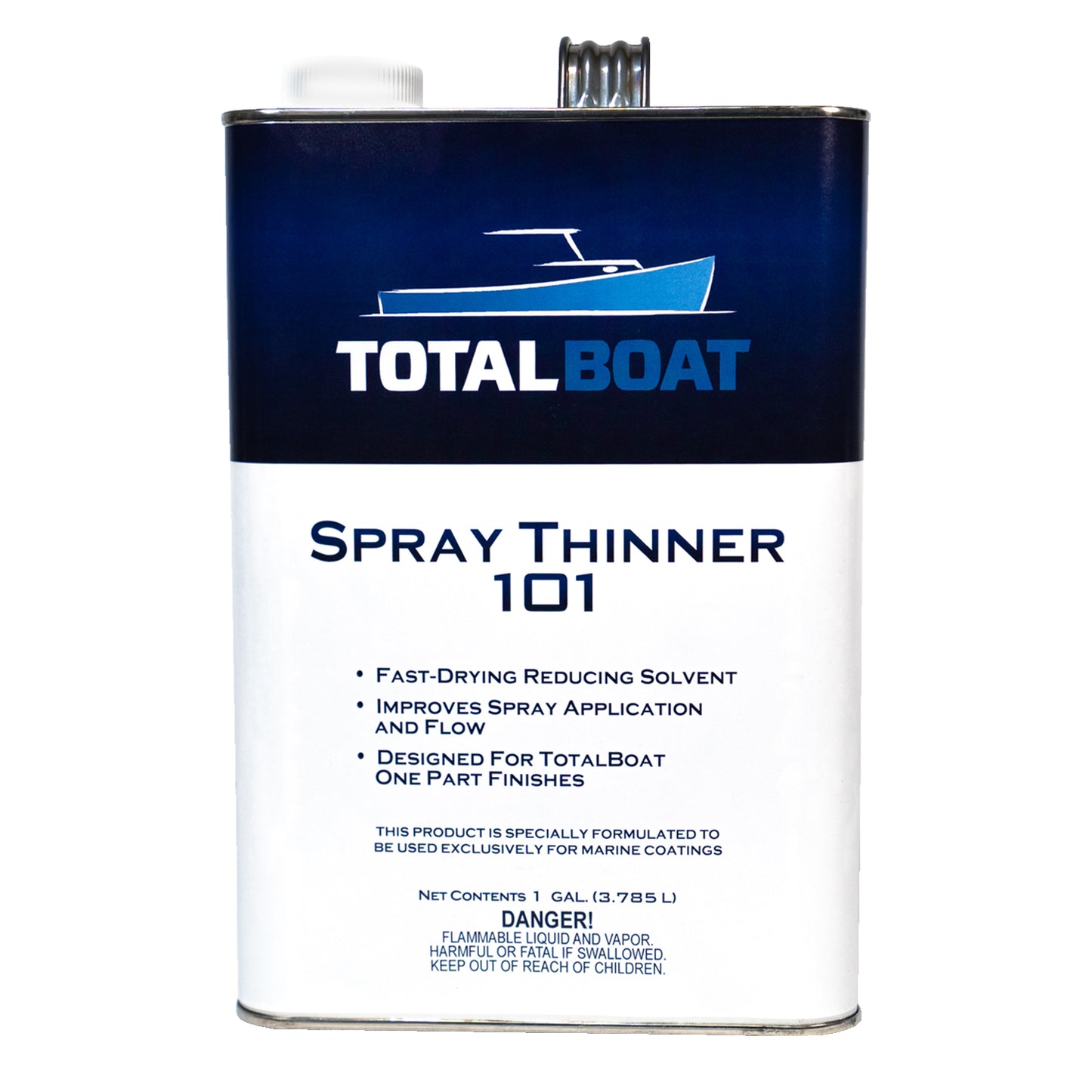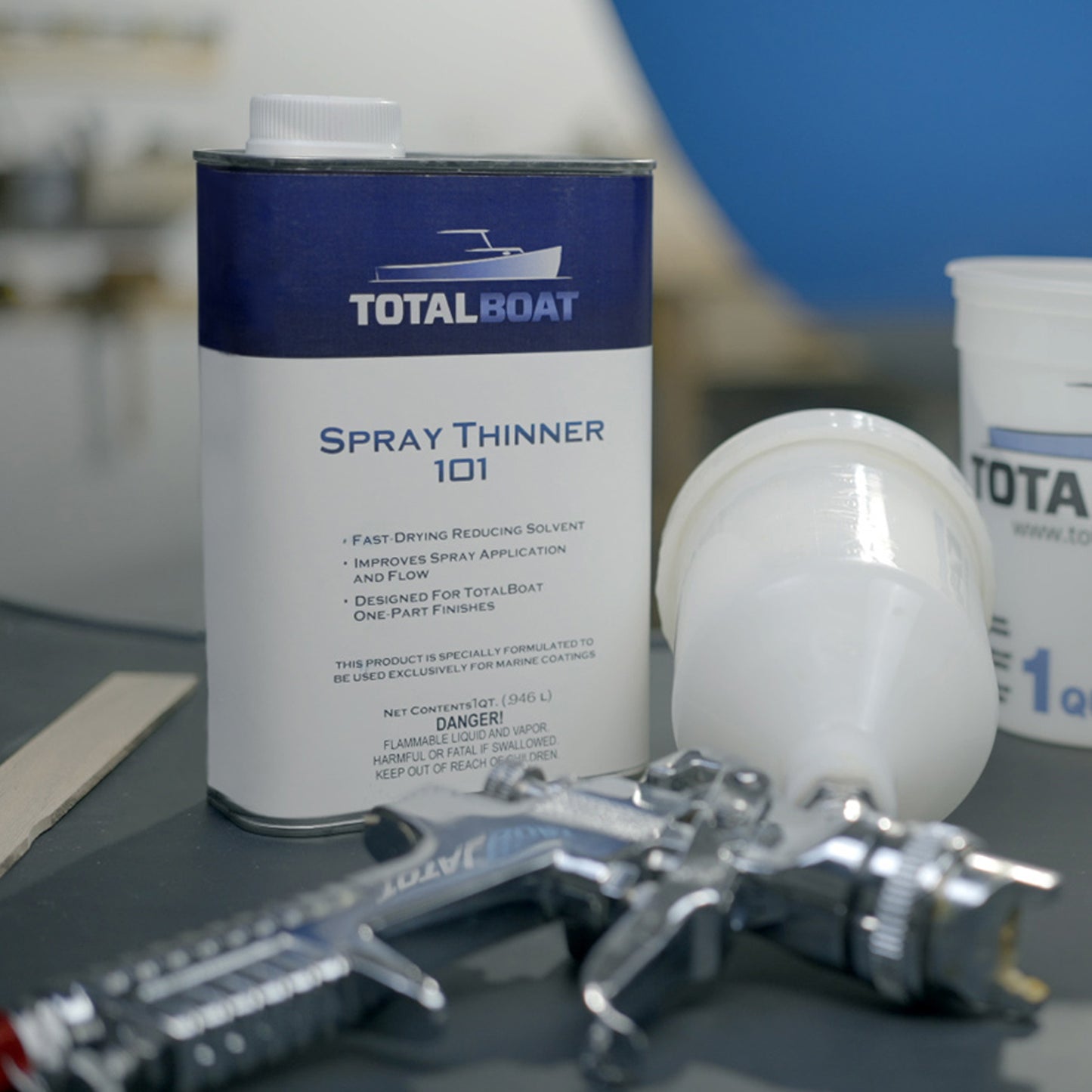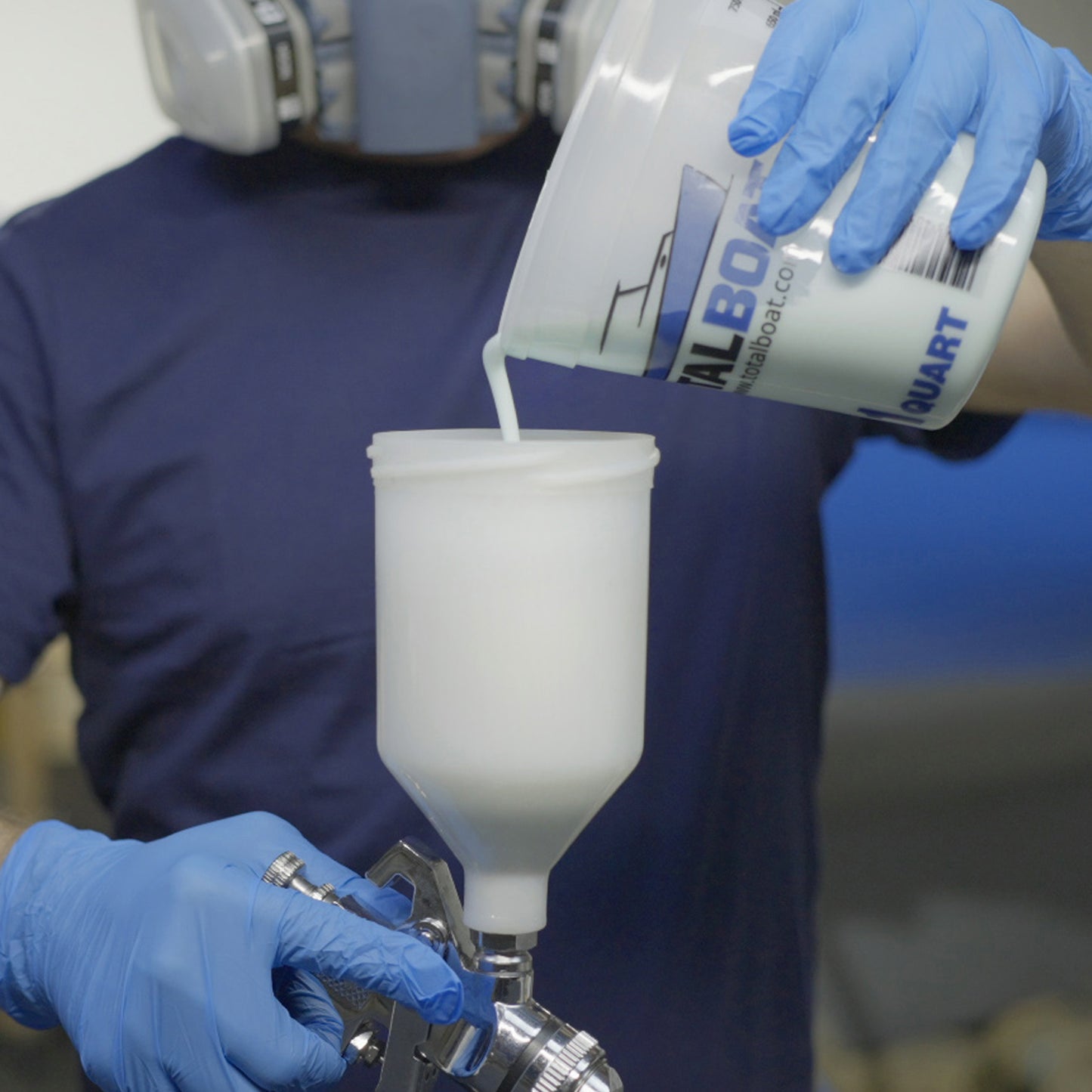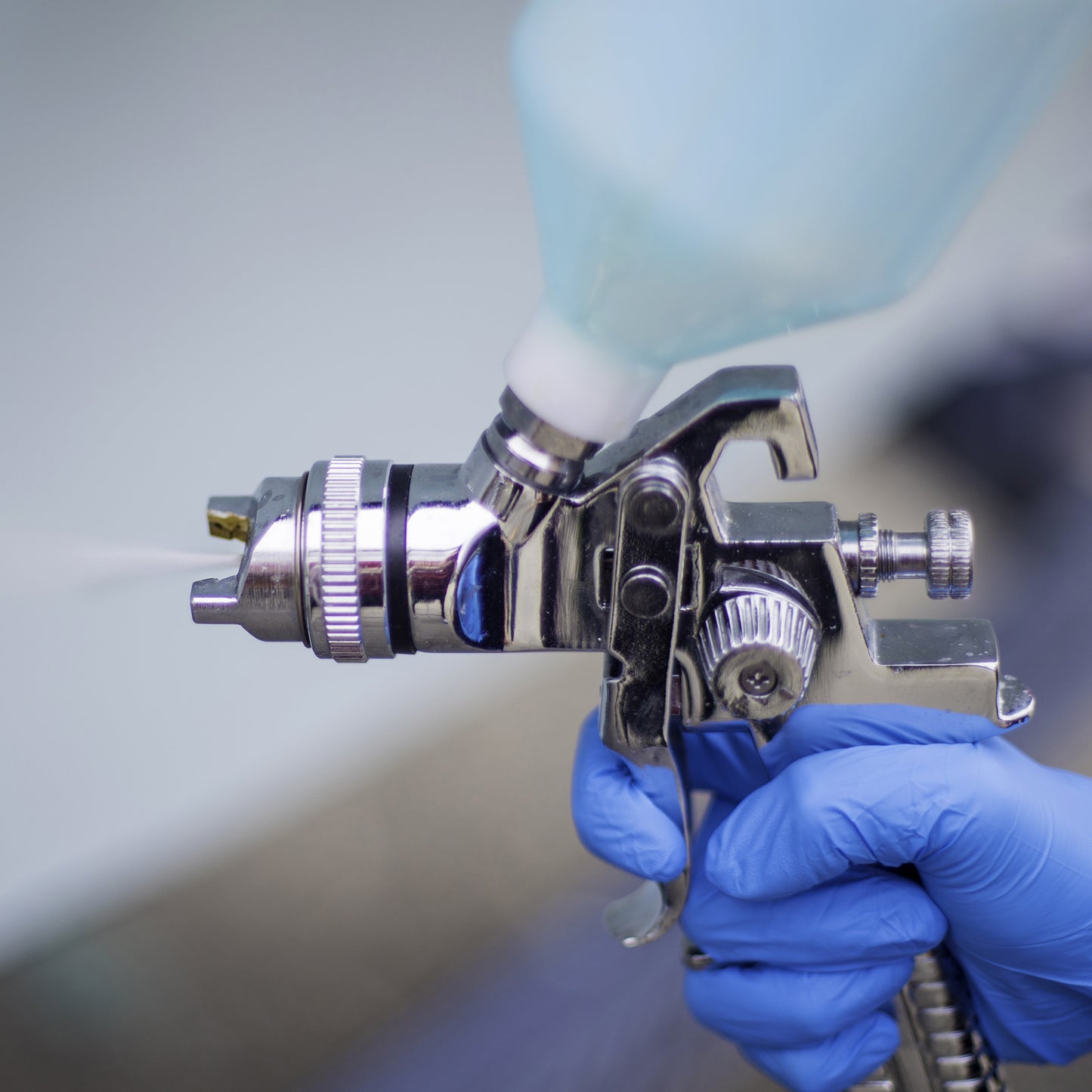 Description
Use TotalBoat Spray Thinner 101 to reduce most one-part TotalBoat finishes for spraying applications. In cool-weather conditions, you can use Spray Thinner 101 as a brushing/rolling reducer for these products.

Thinner 101 also works great as a surface prep solvent wipe to remove contaminants before applying these products, and it's ideal for cleaning tools and equipment.
Improves flow for spray applications
Can be used as a brushing thinner in cooler temperatures (40-60°F)
Flashes out rapidly
Removes surface contaminants
Cleans tools and equipment
Spray Thinner 101 can be used with these TotalBoat 1-Part Finishes:
Lust marine varnish
Gleam 2.0 spar varnish
Wood Sealer varnish primer
Wet Edge topside paint
TotalTread non-skid deck paint
TotalBilge epoxy bilge paint
TotalGold decorative gold paint
Premium Topside Primer
Spartan multi-season antifouling paint
Krypton copper-free antifouling paint
Underdog ablative antifouling paint
AlumiPaint AF antifouling paint for aluminum boats and pontoons
Outdrive AF antifouling paint
Marine Wood Finish – Use Thinner 101 as a surface prep solvent wipe or tool cleaner ONLY; use TotalBoat Special Brushing Thinner 100 to thin TotalBoat Marine Wood Finish
Thinning Note

In warmer temperature conditions, where you're applying TotalBoat one-part finishes by brush/roller, use
TotalBoat Special Brushing Thinner 100
,
for best results.
FREQUENTLY BOUGHT TOGETHER
PRODUCT IN ACTION
SEE HOW EASY IT IS TO USE SPRAY THINNER 101
PRODUCT IN ACTION
SEE HOW EASY IT IS TO USE SPRAY THINNER 101
SPECIFICATIONS
TECHNICAL DATA
Application Temperature: Spray- 40-95°F; Brushing/Rolling – 40-60°F
Thinning Percentages for Spray Applications: 10-20%
Thinning Percentages for Brushing/Rolling in Temperatures Below 60°F: 5-10%
NOTE: The amount of thinner is specific to each individual application. Percentages will vary or exceed these values based upon desired flow or spray, ambient conditions, and the specific product being thinned.
Coverage: 1 quart of Spray Thinner 101 per gallon of paint, primer, or varnish, for most applications. Actual coverage will vary based on ambient conditions, products, and application techniques.
ADDITIONAL PRODUCT INFORMATION
WHAT MOST PEOPLE ASK
FREQUENTLY ASKED QUESTIONS
Can Spray Thinner 101 be used with all TotalBoat finishes?

No. Thinner 101 can be used with most TotalBoat one-part finishes including Wet Edge, Topside Primer, TotalTread, Gleam 2.0, TotalBoat Lust, Wood Sealer, Marine Wood Finish (surface prep and cleanup only), TotalBilge, TotalGold, TotalBoat Underdog, Spartan, Krypton, Outdrive AF, and AlumiPaint AF.

What is the difference between Spray Thinner 101 and xylene (Xylol)?

Spray Thinner 101 contains a blend of solvents with different evaporation rates that are designed to promote the best spray application properties for TotalBoat one-part solvent based products.

Can Spray Thinner 101 be used with one-part finishes from other manufacturers?

In general, yes, although TotalBoat Spray Thinner 101 was designed use with TotalBoat brand products. Thinner 101 may also be used with other one-part, solvent-based products from competitive brands, but it can not be guaranteed that Spray Thinner 101 will have the exact same properties, cure times, or thinning percentages.
WARNING
: This product can expose you to chemicals including ethylbenzene, which is known to the State of California to cause cancer, and toluene, which is known to the State of California to cause birth defects or other reproductive harm. For more information, go to
www.P65Warnings.ca.gov