PART OF THE TOTALBOAT TROPICAL EPOXY SYSTEM
TWICE THE WORKING TIME OF TOTALBOAT SLOW HARDENER
EXTRA LONG POT LIFE & WORKING TIME
EASY TO DISPENSE WITH TOTALBOAT 3:1 PUMPS
Low-viscosity epoxy curing agent for use with TotalBoat Traditional Epoxy Resin extends working time and slows cure in extremely warm temperature and humidity conditions. Provides twice the working time of TotalBoat Slow Hardener.
Regular price
$40.99 - $89.99
Sale price
$40.99
Regular price
Unit price
per
Free Shipping On All Orders
PART OF THE TOTALBOAT TROPICAL EPOXY SYSTEM
TWICE THE WORKING TIME OF TOTALBOAT SLOW HARDENER
EXTRA LONG POT LIFE & WORKING TIME
EASY TO DISPENSE WITH TOTALBOAT 3:1 PUMPS
View full details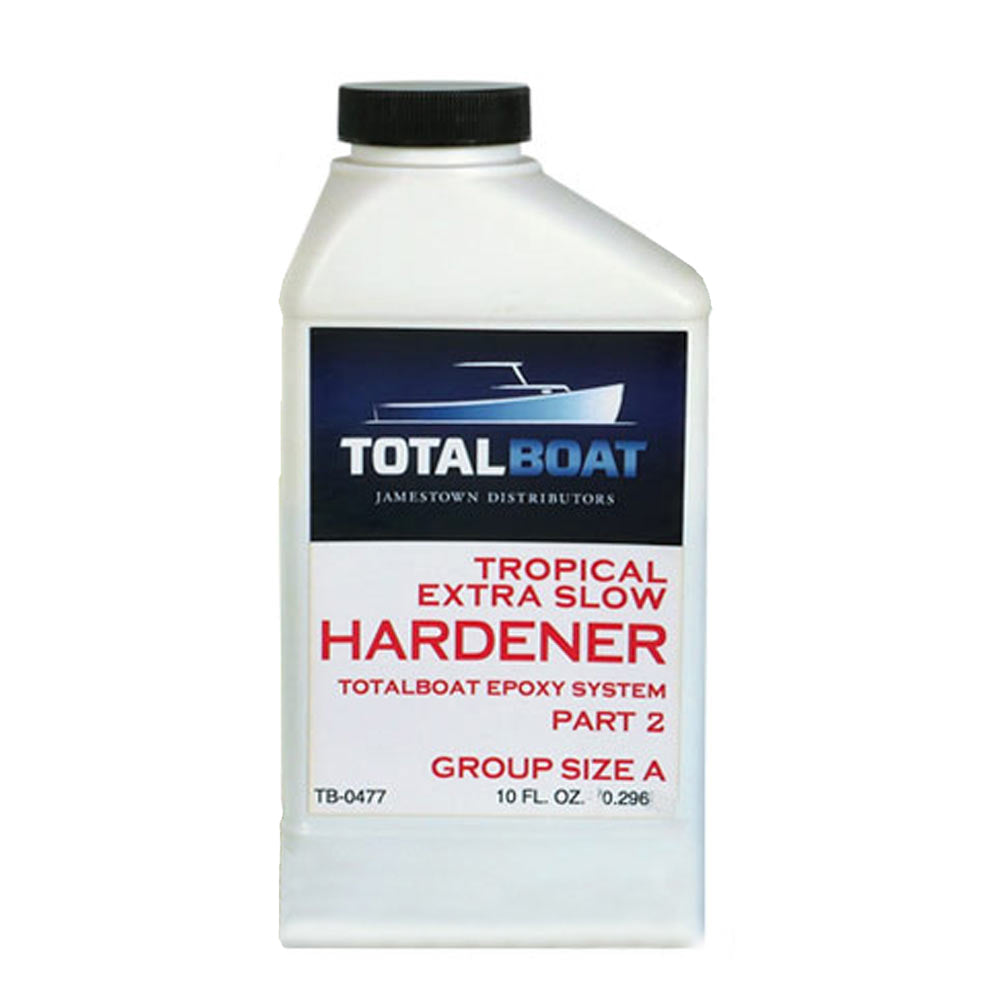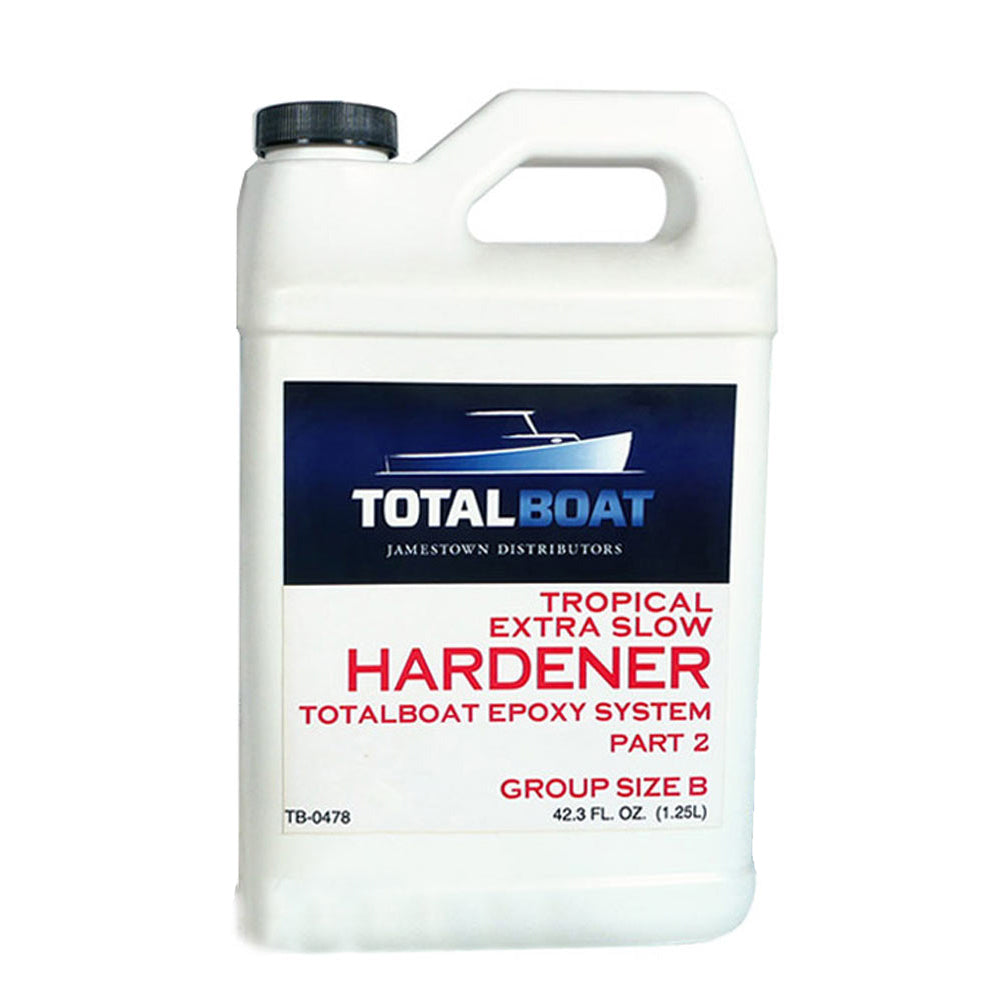 Description
Extend working time in warmer temperatures
TotalBoat Tropical Hardener is ideal if you need more working time at room temperature in very warm, humid conditions at or above 70°F. It's easy to measure the right mix, especially with the included pre-calibrated pump.
Combine Tropical Hardener with our Traditional Epoxy Resin, then mix thoroughly for about two minutes before use. Great for wetting out fiberglass and other fabrics, coating, and bonding. Cures to a high-strength, moisture-resistant solid.
Tropical Extra Slow Hardener Details
Using Tropical Hardener with TotalBoat Traditional Epoxy Resin in extremely warm or humid conditions creates a resin/hardener mixture that remains workable longer.
Provides approximately twice the working time of TotalBoat Slow Hardener.
Cures to a moisture-resistant, high-strength, light amber finish when mixed with TotalBoat 5:1 Epoxy Resin.
Viscosity is preferred for ease in wetting out fiberglass and other fabrics.
Makes a strong filleting or fairing compound, or adhesive when combined with 5:1 Epoxy Resin and various thickening agents.
Excellent thin-film characteristics provide smooth flow-out and self-leveling ideal for coating and laminating.
Provides good moisture resistance for barrier coating and bonding applications.
Easy to measure and mix by weight or volume.
Sizes: Size A 10 fl. oz., Size B 42.3 fl. oz.
Note: Hardener sizes correspond to group sizes of TotalBoat 5:1 Epoxy Resin. The hardener container does not come filled to the top. It contains the calibrated amount of product to work in conjunction with the same size resin container.
Safety information: Work in a well-ventilated area and wear protective eyewear, protective clothing, and suitable gloves.
Note: Not intended for clear coating applications.
Important Safety Information
Always wear protective clothing and equipment to protect your eyes, skin, and lungs when working with TotalBoat Traditional Epoxy Resin and Hardeners. Personal protective clothing should include appropriate gloves, safety glasses or goggles, a proper respirator, and a proper apron or similar protective clothing.
SPECIFICATIONS
TECHNICAL DATA
APPLICATION DATA
Substrates: Fiberglass, epoxy, wood (pressure treated wood is not recommended), prepared metals, masonry, concrete, glass, stone, some plastics
Application Method: Brush, Roller, or Syringe; can also be poured and spread with an epoxy spreader.
Application Temperature/RH: Minimum 55°F; for best results, 70-105°F, relative humidity 0-90%
Working Time (Varies by Mass of Mixed Epoxy): 5-15 minutes @ 75°F
Working Life (Applied Immediately at Thin Film): 3-4 hours @ 75°F
Pot Life (150g mass @ 75°F): 46 minutes
Full Cure (for High Loads/Stresses): 5-7 days @ 75°F
Shelf Life: At least 1 year (under proper storage conditions)
PHYSICAL DATA
Cured Color/Finish: Clear/amber. Not intended for clear coating applications.

Mix Ratio (by Volume): 3A:1B (3 parts epoxy resin to 1 part hardener)

UV Stable: No. This product has some UV resistance, but is not designed as a finishing material.

Volumetric Yield: 24.1 in³/lb

Hardness: 85 Shore D
PRIMER, THINNER, PREP & CLEANUP SOLVENTS
Primer: No primers are necessary; etching with TotalBoat Aluminum Boat Etch Wash is highly recommended on bare aluminum substrates, and TotalBoat Rust Primer is recommended on ferrous steel applications.

Thinner: Do not thin.

Mold Release Agents: Mold release paste wax, aerosol mold release agents

Surface Prep Solvent: Acetone or denatured alcohol or TotalBoat Eco Solvent

Cleanup Solvent: Denatured alcohol or acetone. Once cured, it must be removed mechanically.